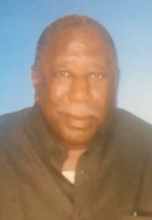 Robert Randolph Blackwell, 78, of 318 South Oakwood Street, Statesville, N.C., departed this life on Friday, July 28, 2023, at Atrium Wake Forest Baptist Hospital in Winston-Salem, N.C., following an extended illness. He was born in Iredell County on March 28, 1945, and was the son of the late Martha Frances Blackwell and William Junious Taylor.
In addition to his mother, Martha Frances Blackwell, and father, William Taylor, Robert was preceded in death by a sister, Shirley Blackwell and Robin Blackwell; a brother, Donald Blackwell; and a brother-n-law, Joseph Eugene Nixon; nephews, Cadet Blackwell and Charles William Blackwell Sr. "Boosie"; and his great niece, Amari Wilson.
He was a graduate of Morningside High School and attended Mitchell Community College, where he majored in Graphic Communications. He was an avid sports fan and loved football and baseball. His favorite team was the Dallas Cowboys. At an early age, he attended Bethel Congregation Church. He served with the United States Navy and was honorably discharged.
He leaves to cherish the precious memory of his life one brother, Todd Lenell Blackwell of Winston-Salem; three sisters, Brenda Blackwell Nixon and Phyllis (Joseph) Blackwell, Johnson both of Statesville, and Deborah Denise Blackwell of Troutman; a sister-in-law, Betty Graham Blackwell of Troutman; a host of nieces and nephews, Danny Blackwell, Marcus (Natasha) Nixon, Amanda Wilson, Takuri Everhart, Cody Natasha Blackwell, Shannon Nicole Blackwell, April Blackwell, Jeffery Blackwell, Shawn Blackwell, Shaquawn Ramsey, Joseph Balckwell and Adonos Blackwell; special friends, Irma Rivers, Carrie Rivers, George Rivers, Kalvin Rivers, Kevin "J Bird" Rivers, Sharnette Moore and Jimmy Warren; and a host of great nieces, great nephews, cousins, other relatives, church family and dear friends.
Visit the Book of Memories for Mr. Blackwell at www.rutledgeandbigham.com.
Rutledge and Bigham Funeral Home is serving the Blackwell family.