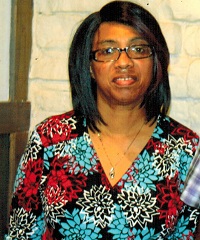 Mrs. Donna Marie Dunlap Glaspy, 58, of Troutman N.C., was born September 19, 1964, to Reverend Modean Howard Dunlap and the late Deacon Shirley William Dunlap. She departed this life on Sunday, August 20, 2023. She was preceded in death by her father and niece Chanda.
Donna loved her husband, but most of all she loved the Lord. She enjoyed watching her grandchildren, reading, singing, traveling, wearing her earmuffs, and playing games on her tablet. Her favorite gospel song was, "You Ought to Run and tell That"; and her favorite Gospel Choir was The Mississippi Mass Choir.
Donna sung with various choirs in North Carolina: Dunlap Family Singers, Mitchell Community College Inspirational Choir, Antioch Senior Choir and Singing Stars of Shinnsville. At Antioch, she was on the Ushers Ministry, Pastor Aid Ministry and Missionary Ministry.
Donna was employed by Walmart. Prior to Walmart, she worked for Trim System, Draymore, Bojangles and ESC.
She leaves to cherish the memory of her life, her husband of 32 years, Ray L. Glaspy of the home; two sons, Bryson L. Glaspy of Gastonia and Dondre' T. Glaspy of the home; two grandchildren, Brayden and Brooklyn Glaspy; her mother, Reverend Modean H. Dunlap; her brothers, William B. Dunlap and Eric Dunlap of Stony Point, N.C.; father- and mother-in-law, Deacon Donald and Deaconess Juanita Glaspy of Statesville; brother-in-law, Felix (Lora) Graham of Troutman, N.C.; sisters-in-law, Cozette Ramsey of Troutman, N.C., Donna E. Glaspy and Evora Glaspy of Statesville, N.C., and Winifred of Jacksonville, Fla.; four nephews, Aaron (Simone) of Mooresville, N.C., Chakiris of Troutman, Cameron of North Wilkesboro, and Adrian of Statesville; nine nieces, Charmane and Shirlandra of Troutman, Delisse' and Rhukia of Statesville, Dyneka, Jasha' and Sadie of Charlotte, Courtney of Mooresville, and Molena of Jacksonville, Fla.; godson, Justin Hector of Statesville; a host of aunts, uncles, great nieces, nephews, relatives and friends.
Celebration of Life Services will be conducted on Friday, August 25, 2023, at 2 p.m. at Mt. Pleasant AME Zion Church in Statesville, N.C. Burial will follow in the Antioch Baptist Church Cemetery.
Donna will remain at Rutledge and Bigham Funeral Home until taken to the church to lie in state at 12:30 p.m. Members of the family will receive friends at the church from 1:30 until 2 p.m., but will assemble at the residence of her father-in-law and mother-in-law, Mr. and Mrs. Duke Glaspy, at 880 Bethesda Road, Statesville, N.C., at other times.
Visit the Book of Memories for Mrs. Glaspy at www.rutledgeandbigham.com.
Rutledge and Bigham Funeral Home is serving the Glaspy Family.