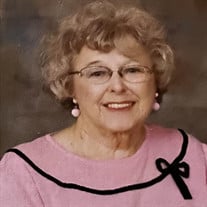 Doris Grohman Robinette, 85, of Statesville, N.C., passed away January 7, 2023, at Gordon Hospice House after an extended illness. She was born April 21, 1937, in Mecklenburg County to the late Theodore Keziah and Lucille Biggers Keziah.
She worked in the cosmetic industry and was a member of Stony Point Baptist Church.
In addition to her parents, she was preceded in death by her first husband, Edmund Grohman; second husband, Bobby Robinette; daughter, Debbie Morgan; granddaughter, Michelle Benge; and brother, Teddy Kiziah.
Survivors include one son, Stan Cavin; wife Latatia of Statesville; and one grandchild, Aaron Cavin.
Funeral arrangements will be announced at a later date.
Memorials may be given to Hospice of Iredell County, 2347 Simonton Road, Statesville, N.C.
Chapman Funeral Home is serving the Robinette family.