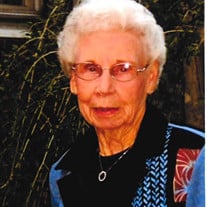 Margaret Christie Goodrum, 101, passed away peacefully on Sunday, January 8, 2023, at Lake Norman Regional Medical Center.
She was born on September 28, 1921, to the late Thomas Vestie and Mary Graham Christie. A lifelong resident of Mooresville, N.C., Margaret was the eldest of five siblings, Eugene Christie, the late Thelma Caldwell, Elizabeth Lowrance, and Douglas Christie.
On December 23, 1941, Margaret married Murray Goodrum of Cornelius, N.C. Murray began his career with Burlington Industries, but that career was soon interrupted by World War II. After being discharged from the U.S. Navy, Murray returned to work and eventually retired from Burlington Industries after more than 30 years. Murray passed away in July 1989. Margaret and Murray reared two sons, Thomas and Freddie. Thomas retired from Wachovia Bank, and Freddie owned and operated the Sea Shell Pet Shop on Main Street Mooresville.
Margaret grew up during the difficult days of the Great Depression. She quickly learned the value of hard work and the necessity to be resourceful and frugal. Margaret worked for the Raylass Department Store, Burlington Industries, and retired from the Draymore Manufacturing Plant after 32 years of loyal service. After retirement, Margaret began helping Freddie and his wife Ruth in the Pet Shop, where she became an excellent salesperson.
Among the many things that Margaret enjoyed, she especially liked receiving cards and letters, talking on the telephone to family and friends, visiting the Mooresville Museum and watching TV.
In addition to her parents and siblings, she was preceded in death by a grandson, Zackery Goodrum.
She is survived by her children, Thomas Goodrum (Carol) of Clemmons, and Freddie Goodrum (Ruth) of Mooresville; brother, Eugene Christie of Georgia; grandchildren, Casey Goodrum, Leslie Baldwin, T. Michael Goodrum; and great grandson, Sean Baldwin.
The family will receive friends on Friday, January 13, from 2 to 3 p.m. with a service following at 3 p.m. at Cavin-Cook Funeral Home Chapel with Rev. Andrew Shoger officiating. Burial will follow the service at Glenwood Memorial Park.
In lieu of flowers, memorials may be made in her memory to Coddle Creek ARP Church, 2297 Coddle Creek Highway, Mooresville, NC 28115.
The family would like to extend a heartfelt special thanks to the management and staff at TerraBella Lake Norman in Mooresville for their loving care.
Cavin-Cook Funeral Home & Crematory, Mooresville, is serving the Goodrum family. Condolences may be made to the family at www.cavin-cook.com.