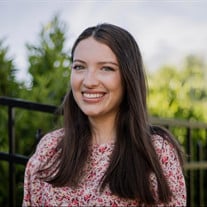 Emma Raymond, 21, a beloved daughter, sister, friend and resident of Mooresville, N.C., went home to be with her Lord and Savior Jesus Christ unexpectedly on September 24, 2023. Emma's bright and beautiful spirit touched the lives of all who had the honor of knowing her.
Born in Waterville, Maine, Emma moved to North Carolina during her high school years. She quickly adapted and began to embrace her new Southern home. Despite moving South, Emma remained true to her New England roots, as she was an unwavering fan of the New England Patriots. Go Pats!
If she wasn't at work or school, you could typically find Emma curled up with a good book. Emma loved to read and it wasn't unheard of for her to finish an entire novel in one day.
Above all, Emma's heart overflowed with love for her family, especially her siblings. She was a proud big sister and an incredible role model.
Emma graduated from Mooresville High School and was pursuing a nursing degree at Mitchell Community College in hopes of becoming a Pediatric Nurse, which was inspired by her love for children. She often volunteered with the children's ministry and loved to babysit. Emma's commitment to academics had earned her a place on the Dean's List, a testament to her hard work.
Aside from diligently pursuing her career and education, Emma found joy in traveling, especially cruising. She cherished the moments spent on the phone with friends, and relished the time she spent with her loving boyfriend. Emma's outlook on the world was refreshing and her laugh was infectious. To know Emma was to love Emma.
Emma leaves behind a loving family, who look forward to being reunited with her in due time, including her father, Matt Raymond, and mother, Katie Raymond; her sisters, Lucy, Madelyn and Ava; and her beloved brother, Levi. Emma is also survived by her biological mother, Amy Richards, and her grandparents, Vicky and Jim Maloy, Jim and Robin Guzofski, Milt Raymond, and Edward and Sally Hermann, in addition to a multitude of cousins, aunts, uncles, and countless friends.
Although Emma may no longer be physically here with us, her memory will forever remain alive in our hearts, as we remember the beautiful soul who brightened our lives and left an unforgettable mark on this world. She was taken from us far too soon, but her legacy of love, ambition, and kindness will continue to inspire us all.
A celebration of Emma's life will be held on October 13, 2023, at 4 p.m. at Christ Community Church, located at 615 North Main Street in Mooresville, N.C.
In lieu of flowers, the family kindly requests donations be made to the Mitchell Community College Nursing Program. Emma's family would like to extend their heartfelt gratitude to all those who have offered their condolences and support during this difficult time.
Cavin-Cook Funeral Home, Mooresville, is serving the family.