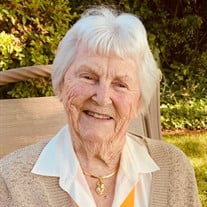 Esther Marie Frencik Vidale of Mooresville, N.C., passed away peacefully in her home on Tuesday, September 26, 2023.
Born July 5, 1924, in Industry, Pa., she was 99 years old. She leaves behind her son, Daniel Vidale of Sacramento, Calif.; her daughter, Jane Vidale Cohlmia; son-in-law, Brad Cohlmia; granddaughter, Carrie Cohlmia of Mooresville, N.C., grandson, Alex Cohlmia; and her daughter-in-law, Anna Peacock Cohlmia of Raleigh, N.C.
Esther was preceded in death in 2010 by her husband of 67 years, Donald M. Vidale, and by her oldest son, Vincent H. Vidale, in 1987. Esther devoted her life to her husband, children, extended family and friends as she shared her extraordinary gifts of cooking, baking, and entertaining with all who loved her. Esther was an avid golfer, reader and previously owned Sister's Fashions in White Oak, Pa., along with her sister Jeanne.
Private funeral arrangements are being handled by Cavin-Cook Funeral Home in Mooresville, N.C. Esther will be laid to rest next to her loving husband at the VA National Cemetery in Salisbury, N.C.
A celebration of life will be planned at a later date.
In lieu of flowers, donations can be made in Esther's name at Hospice of Iredell County, 2347 Simonton Road, Statesville, NC 28625.
Cavin-Cook Funeral Home & Crematory, Mooresville, is serving the Vidale family. Condolences may be made to the family at www.cavin-cook.com.