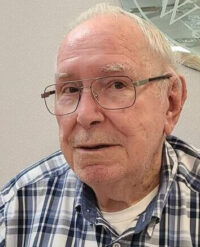 Carlos Elzy Brooks, 85, of Statesville, N.C., passed away, Tuesday, September 26, 2023, at the Gordon Hospice House.
Mr. Brooks was born February 4, 1938, in Iredell County. He was the son of the late Isaac Brooks and Mackie Oliver Brooks. Carlos was a graduate of the North Carolina School for the Deaf and made his career in the maintenance department of Davis Regional Medical Center. He dearly loved his family and his friends in the deaf community, and he was especially fond of animals.
Along with his parents, Carlos was preceded in death by his beloved wife Barbara; his son, Michael Ray Brooks; and daughter-in-law, Bonnie Reid Brooks.
Those left to cherish the life and legacy of Carlos Brooks include his daughters, Debra (Glenn) Miller, Krystle Brooks, and Kathy (Buddy) Powers. He is further survived by his grandchildren, Justin Ray (Jennifer) Brooks, Travis Ray Brooks, Kimberly Miller, Jennifer Miller, Nicholas Miller, Haley (Josef) Queen, Hope Powers, and Ian Powers; his great-grandchildren, Lane (Keli) Lester, Cody Lester, Savannah Miller, Theron Miller, Baeden Queen, and Joni Queen.
A graveside service will be held at 1 p.m. on Monday, October 2, 2023, at Iredell Memorial Gardens. The family will visit with friends following the service.
Troutman Funeral Home is serving the family.