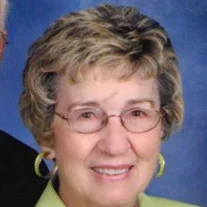 Mrs. Faye Brown Smith Peeler, 91, of Mt. Ulla, N.C., died on Monday, October 9, 2023, at S. Mitchell Mack Hospice House in Mooresville, N.C. She was born September 20, 1932, to the late William Blenn Brown and Helen Karriker Brown.
She was a 1950 graduate of Mt. Ulla High School and a graduate of Lowrance School of Nursing in Mooresville. Mrs. Peeler retired from the VA Hospital as an RN in Salisbury after 30 years of service. She was a life-long member of St. Luke's Lutheran Church of Mt. Ulla and participated in all phases of the church. She enjoyed jigsaw puzzles, reading, and square dancing and was a great seamstress. She loved her family and will be greatly missed.
In addition to her parents, preceding her in death on November 18, 1994, was her first husband of 41 years, James Grady Smith. Her second husband of 13 years, Adam Lester Peeler, died September 18, 2018. She was also precced by her brother, Farrell Brown; and sister, Judith McBride.
Survivors include sons, Michael Smith (Susan) of York, S.C., and Jeffrey Smith (Crystal) of Mt. Ulla; daughter, Glynis Allison (Craig) of Davidson, N.C.; also surviving are seven grandchildren, Jessica Moore (Brian), Justin Lefler (Morgan), Devon Aldridge (Ben), Grayson Smith (Katie), Caroline Ellis (Brodie), Adam Smith (Jessica), and Jake Smith (Tayler); and 15 great grandchildren with one due in December; five stepchildren; nine step grandchildren, and 11 great step grandchildren.
Funeral services will be held at 2 p.m. on Friday, October 13, 2023, at St. Luke's Lutheran Church, Mt. Ulla, with Rev. Scott Swixx officiating. Burial will follow the service at the church cemetery. The family will receive friends following the burial in the church fellowship hall.
Special thanks to the compassionate staff at S. Mitchell Mack Hospice House for their care.
In lieu of flowers, memorials may be made to St. Luke's Lutheran Church Organ Fund, 11020 NC 801, Mt. Ulla, NC 28125 or S. Mitchell Mack Hospice House, 1325 Mecklenburg Hwy, Mooresville, NC 28115.
Cavin-Cook Funeral Home, Mooresville is proudly serving the Peeler family. Condolences may be made to the family at www.cavin-cook.com.