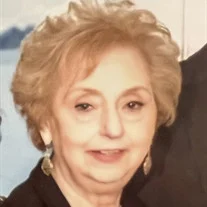 Mildred Lobozza Testa, 89, of Mooresville, N.C., passed away on Monday, October 9, 2023, at Novant Health Huntersville Medical Center.
She was born on July 19, 1934, in Brooklyn, N.Y., to the late Ralph and Madeline Arleo Lobozza. Mrs. Testa was a member of St. Therese Catholic Church in Mooresville. She loved her family and enjoyed cooking for them and spending time with them.
In addition to her parents, she was preceded in death by her husband, John S. Testa; and sons, John S. Testa Jr. and Steven Testa.
She is survived by her sons, Doug Testa and wife Vera, Mike Testa and wife Michele; sister, Vivian Giuliante; brothers, Michael Lobozza, Ralph "Jr" Lobozza and wife Kathy; grandchildren, Jon, Stephanie, Stacy, Kenney, Doug, Nicole, Kaitlyn, and Steven; great grandchildren, Sidney, Lilly, Lucas, Emeree, Christian, and Anthony; and numerous nieces and nephews.
A Memorial Mass will be held at 11 a.m. on Saturday, October 14, at St. Mark's Catholic Church in Huntersville. The family will receive friends on Friday, October 13, from 6 to 8 p.m. with a prayer service at 7 p.m. at Cavin-Cook Funeral Home.
Cavin-Cook Funeral Home & Crematory, Mooresville, is serving the Testa family. Condolences may be made to the family at www.cavin-cook.com.