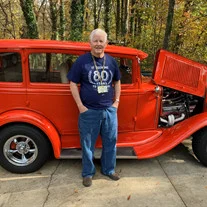 Francis Gray, known affectionately as "Butch," peacefully passed away on October 8, 2023, surrounded by his loving family in Mooresville, N.C.
Born on November 6, 1940, in Winter Garden, Fla., Butch was the beloved son of Buster and Dorothy Day Gray. Throughout his life, Butch was committed to his work in communications as a Data Tech. He demonstrated the abilities he had by using his mechanical background to tinker with anything. If something needed fixing, Butch could do it earning him the utmost respect from not only his former colleagues but also his family members as well. He prided himself on his abilities and hobbies, which included flying Cessna planes, collecting coins, shooting guns, and restoring old cars.
Butch was a committed family man. His marriage with Margaret Jane Gray signified his devoted love not only for her but for others as well. They shared many beautiful years in which they supported and loved one another. His family always came first but he never met a stranger. Butch was wealthy in love and expressed his endearment for those he cared about through the fondest embrace. His expressiveness of affection was admirable to all who came into contact with Butch, and he truly had the ability to form unbreakable bonds.
In addition to his beloved wife, Butch leaves behind a legacy of love and devotion in his children and grandchildren. He was preceded in death by his son, Boen Gray, adding an everlasting ache to the hearts of those who held him dear.
Butch is survived by his sons, Tim Stoyanov (Angel) of Salisbury, N.C., and Todd Stoyanov (Lisa) of Greenville, S.C., as well as his daughter, Shera Kelly of Eugene, Ore. His memory will also be cherished by his daughter-in-law, Linda Gray of Orlando, Fla., and his sister, Cindy Crump, and brother, Norman Gray, both of Orlando, Fla.
Butch's impact extends beyond his immediate family. He will be deeply missed by his adoring grandchildren, Kori Resto of Orlando, Fla., Davin Kelly of Eugene, Ore., Landon Gray of Orlando, Fla., Morgan Gray of Orlando, Fla., Noah Stoyanov and Jordan Stoyanov of Greenville, S.C.; Luke Stoyanov (Ashleigh) of Greenville, S.C.; Mandi Stoyanov of Tallahassee, Fla.; Savannah Gray of Tallahassee, Fla.; and his great-granddaughter, Aricelli Resto of Orlando, Fla., will carry his memory with her always.
As we reflect on Butch's life, we are reminded of his remarkable spirit and the impact he had on those fortunate enough to know him. In his quiet moments of contemplation, he often found solace in his faith and values, finding peace and tranquility in his relationship with the Lord.
A celebration of Butch's life will take place on Sunday, October 15, 2023, at 2 p.m. at Lake City Church in Mooresville, N.C. The Rev. Rob Spradley will officiate the service, which will be followed by a time of fellowship where friends and family can come together to share cherished memories and support one another during this difficult time.
Although Butch has left this world, his memory will forever remain in the hearts of his loved ones. May we find comfort in the knowledge that his spirit lives on, guiding and watching over us all.
Cavin-Cook Funeral Home is serving the family.