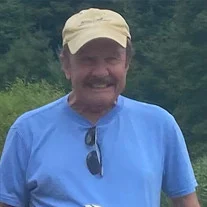 Fred Brown, beloved father, son, brother, husband, and grandfather, died unexpectedly at home on Wednesday, January 4, 2023, at the age of 73.
Born and raised in Indiana, Fred graduated from Brebeuf High School and received his bachelor's degree from Indiana University. He began his career with Freightliner, eventually moving to North Carolina.
Fred enjoyed a 35-year career with Freightliner. He retired as Materials Manager where he made many lifelong friends.
During his retirement, he loved boating, traveling, and spending time with family and friends, especially in the mountains of Alleghany County, N.C.
Fred and his wife Susan celebrated their 50th wedding anniversary on December 23 in a festive gathering prepared by their family.
Fred is survived by his wife Susan (Sue); his daughters, Jenny Thibeault and Jessie Parsons and her husband Drue; granddaughters, Clara and Anna Thibeault; and brother, Bernie.
A celebration of Fred's life will be held at 2 p.m. Sunday, January 15, 2023, at Cavin-Cook Funeral Home.
Visitation with friends and family will be following the service at the funeral home.
In lieu of flowers memorials may be made to American Cancer Society (amp.cancer.org) or Blue Ridge Parkway Foundation, 717 South Marshall Street, Suite 105B Winston-Salem, NC 27101.
Cavin-Cook Funeral Home & Crematory, Mooresville, is serving the family.