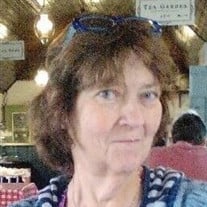 Raneé Suzanne Helms Hedrick passed away peacefully on Tuesday, January 3, 2023, at Novant Health Presbyterian Main.
Raneé was born March 28, 1958, in Hickory, N.C., to the late Kenneth Delbert Helms and Gloria Dean Settlemyre Helms. Raneé spent her first several years living with her grandparents while her mother finished nursing college and her father served in the U.S. Marines. She was proud that her old family homeplace is where Valley Hills Mall was built in Hickory and swore that her family dog was buried under JC Penney's.
Ken, Gloria and Raneé then moved to Charlotte, N.C., and set up house in Oakdale. In 1976, Raneé graduated from West Mecklenburg High School, where she was active in Band, Journalism and Drama Club. She attended Montreat College for two years and went on to attend Western Carolina University and graduated in 1980 with her BSN in Nursing. While at WCU, she earned the nickname "Ray of Sunshine."
In 1988, Raneé married Randy Hedrick, and they settled down in Charlotte. A few short years later, they welcomed their first child, Dana, in 1992, and Matthew, in 1995. Shortly before Matt was born, they moved to Coulwood, where they would raise their children.
Raneé and Randy both worked for the Post Office for 20-plus years with Raneé retiring in November 2020 with a total of 26 years of service. Raneé enjoyed retirement because it gave her more freedom to spend time with her husband Randy, her children and most importantly her first granddaughter, Kinley.
The Hedrick family says that Raneé was always "the glue that held the family together." She enjoyed going to concerts, dancing, traveling and a good Reuben sandwich. More than anything, she adored being "Mimi" to her Kinley Grace.
Raneé is survived by her husband Randy Lee Hedrick; children, Kristine Ann Hedrick, Dana Marie Hedrick Nash (husband Dennis), and Matthew Cameron Hedrick (fiancée Hayley Carpenter). She leaves behind granddaughter Kinley Grace Nash, her grand-dog Roxy Nash and life-long friends, Ginger Thompson and Kim Mills, along with a large extended family.
Raneé was a special lady and was always there for the people she loved. Her ability to show kindness and generosity made everyone's life a little brighter. All that knew her knows she got the biggest bear hug from her dad at the gates of heaven, and they are having a grand reunion. Her loving kindness and support of her family and friends has made the world a better place to live.
Visitation for family and friends will be on Saturday, January 7, 2023, from 11 to 12:45 p.m. at A Mighty Fortress Lutheran Church, 8200 McClure Circle, Charlotte, NC 28216. A service will follow the visitation at 1 p.m. with Pastor Molly Kuekes officiating, and Real Life Church Pastor Mike Davis assisting.
A graveside service will follow at 4 p.m. at Vanderburg United Methodist Church Cemetery, 1809 Charlotte Highway, Mooresville, with Pastor Melanie Nichols officiating.
In lieu flowers, memorials may be made to either:
Alzheimer's Association – Western Carolina Chapter, 4600 Park Road, Suite 250, Charlotte, NC 28209
https://www.alz.org/northcarolina/donate
Charlotte-Mecklenburg Animal Care and Control, 8315 Byrum Drive, Charlotte, NC 28217
https://charlottenc.gov/AnimalsCMPD/Donate/Pages/Donations.htm.
A Mighty Fortress Lutheran Church, 8200 McClure Circle, Charlotte, NC 28216.
Cavin-Cook Funeral Home and Crematory, Mooresville, is serving the Hedrick family. Condolences may be sent to the family at www.cavin-cook.com.