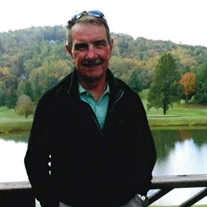 Gary L. Rains, 79, of Mooresville, N.C., died Friday, July 28, 2023, at home surrounded by his family.
Born June 14, 1944, in Hamilton, Ohio, to Ova L. Rains and Cora Gill Rains, Gary grew up in Abington, Ind. He was a 1962 graduate of Centerville High School. Gary worked at Dana Corporation in Hagerstown, Ind., for 21 years. In 1986, the family relocated to Orlando, Fla., where he worked for FMC Technologies until his retirement in 2007. Gary and Judy then moved to Mooresville, N.C., with family where he lived out his final years. He loved golf, surf fishing and bass fishing. In his youth, he hunted the fields around Abington with friends. He was known as an avid Notre Dame Football fan and followed the team his entire life. Gary always enjoyed spending time with family and friends, including special friends Bill and Sandy Goodwin, and Ron and Shirley Nickell.
Gary was preceded in death by his parents, Ova and Cora Rains; his in-laws, Ralph and Bertha Lehman; and his niece, Beth Lehman.
Gary is survived by his wife of 58 years, Judy (Lehman) Rains; his sister, Beverly (John) Menken of Rockford, Ill.; and his daughters, Pam (Gerry) Adams, Julie (Ken) Carson and Kris (Pat) Tinkley, all of Mooresville, N.C. He is survived by eight grandchildren, Lauren, Jeremy, Kara, Matthew, Joshua, Tyler, Max and Lydia; six great-grandchildren; and several nieces, nephews and cousins.
A private burial will be in Abington Cemetery at a future date.
In lieu of flowers, the family has requested donations be made in Gary's memory to the American Heart Association, 128 S Tryon St #1588, Charlotte, NC 28202 (heart.org) or the American Cancer Society, 1901 Brunswick Ave #100, Charlotte, NC 28207 (donate.cancer.org).
Cavin-Cook Funeral Home, Mooresville, is serving the family of Mr. Rains. Condolences may be made to the family at www.cavin-cook.com.