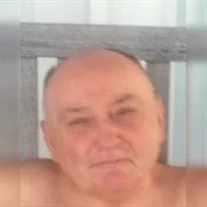 George Junior Abernathy, 79, of Mooresville, N.C., passed away on Tuesday, November 14, 2023, at Maple Leaf Nursing Home in Statesville, N.C.
He was born September 9, 1944, in Iredell County to the late George Franklin Abernathy and Bessie Shoemaker Abernathy. In addition to his parents, he was preceded in death by a sister, Hilda Ann Harrelson.
He attended Laura Memorial Church of God. In his childhood, George survived spinal meningitis. He enjoyed saying that he attended Woodstock. He enjoyed reading and puzzles. His greatest joy was spending time with family and his great-nephews.
George is survived by a sister, Shirley Abernathy; stepbrother, Paul; nephew, Bobby Neilson (Michelle); nieces, Bonnie Cartner (D. R.) and Sherry Neilson; great-nephew, Dillion Cartner; great-nieces, Brittany Cartner and Bethany Prins; and great-great-nephews, Riggs Cartner, Tripp Prins, and Waylon Cartner.
Visitation for family and friends will be on Tuesday, November 21, from 11 a.m. to 12 noon at Laura Memorial Church of God. The service will be at 12 noon with Pastor Frank Smith officiating. Burial will follow the service in Mt. Zion United Methodist Church Cemetery, Cornelius.
In lieu of flowers, memorials may be made to Laura Memorial Church of God, 2173 Charlotte Highway, Mooresville, NC 28117.
Cavin-Cook Funeral Home and Crematory, Mooresville, is serving the Abernathy family. Condolences may be sent to the family at www.cavin-cook.com.