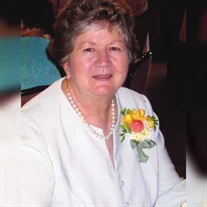 Phyllis Marie Towell Carrigan, 92, of Mooresville, N.C., passed away on Wednesday, November 15, 2023, at her residence, surrounded by her loving family.
Phyllis was born on June 24, 1931, in Mooresville on "Mill Hill" to the late Andrew Jackson "Jack" Towell and Annie Lee Towell. She was a 1949 graduate of Mooresville High School, where she played basketball, met her future husband, and made wonderful lifelong friends. Phyllis was a member of Prospect Presbyterian Church in Mooresville. She was a passionate supporter of the Samaritan's Purse Operation Christmas Child Ministry, personally contributing thousands of shoeboxes for children in need.
While Phyllis was dedicated to a life of service at Carrigan Farms, she and Wade also enjoyed traveling together, visiting 49 of the 50 states and six of the seven continents. She loved canning, preserving, and preparing the many crops grown at the farm and was a steadfast non-drinker and lifelong non-smoker. Phyllis loved her family and enjoyed her role as matriarch. She particularly relished seeing all her grandchildren's accomplishments, using the good genes they inherited from her.
In addition to her parents, Phyllis was preceded in death by sisters, Thelma Towell, Idell Caldwell, Janet Hayer, Margaret King, and Jonnie Mae Sigmon; and brothers, Boyce Towell, Jack "Duke" Towell, Clyde Towell, Ned Towell, and Thomas Towell.
She is survived by her husband of 73 years, Wade Carrigan; children, Doug Carrigan (Kelly), Jan Payne (Dwight), and Tom Carrigan (Connie); grandchildren, Jonathan Payne (Emily), Michael Payne, Jamison Carrigan (Kristin Pruitt), Samuel Carrigan (Kelsey Kem), Elizabeth Carrigan, and William Carrigan; and great grandchildren, Addie and Georgia Payne.
The family will receive friends on Sunday, November 19, from 2 to 4 p.m. at Prospect Presbyterian Church Family Life Center. A memorial service and celebration of her life will be held at 11 a.m. on Monday, November 20, at Prospect Presbyterian Church with Rev. Will Gipe and Rev. Jan Edmiston officiating.
In lieu of flowers, memorials may be made to Prospect Presbyterian Church Elevator Fund, 9425 W NC 152 Highway, Mooresville, NC 28115 or to the Wade P. and Phyllis T. Carrigan Endowment through the Presbyterian Foundation, 200 East 12th Street. Attn: Client Services, Jefferson, IN 47130, Account #1020059012, Fund ID 45898. This fund provides resources for clean water projects in developing countries around the world.
Cavin-Cook Funeral Home & Crematory, Mooresville, is serving the Carrigan family. Condolences may be made to the family at www.cavin-cook.com.