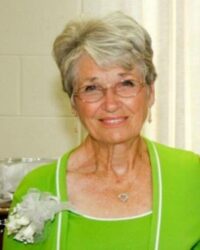 Georgiana Meryl Graham Gregory, 92, of Stony Point, N.C., passed away on Tuesday, November 7, 2023, at Brookdale-Peachtree. Born on July 27, 1931, in Los Angles, Calif., she was the daughter of the late George Graham and Meryl Rose Ash Graham.
In addition to her parents, she was preceded in death by her husband, Dean Harry Gregory; and her son, Jeffery Dean Gregory.
Those left to cherish her memory include her daughters, Jennifer Gregory and Sherry Gregory Owler; her grandchildren, Christina Ashley Eargle, Christopher Wayne Nicholson, Chad Dean Eargle, Josh Dean Gregory, Jared Gregory, and Justin Gregory; and great-grandchildren, Aiden Nicholson, Olivia Nicholson, Camille and Wyatt.
Nicholson Funeral Home has the honor of serving the family.