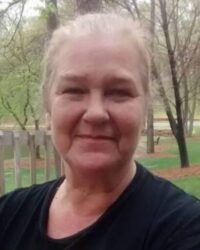 Theresa "Teri" Figley Randol, 64, passed away peacefully Tuesday, November 7, 2023, surrounded by loved ones.
Teri was born April 1, 1959, to the late Robert Figley and Toni Femver in Flint, Mich. She was a loving mother and friend. Many know her as "Granny," which extended to not only her own grandchildren but to nearly every young person she encountered. She loved strong and BIG. She could lighten a room and air it out at the same time with her presence and sense of humor that so many of us adored and will truly miss. In a world where so many are willing to water themselves down, you could always count on Teri to be the unapologetic, unfiltered life of every party.
Teri's extroverted nature also led her to a career dedicated to nearly every facet of the service industry. Here, she found yet another avenue to pour out her love to those who crossed her path. She was adored by her co-workers and customers alike.
Teri was preceded in death by Paul Randol and Anthony Taylor.
She is survived by brother, Robert Earl Figley Jr.; children, Stacey Randol, Trisha Coffey (Amanda), Bobbie Jean Randol, Corey Randol (Ashley), Kasey Randol (Lisa), and Antwon Taylor; grandchildren, Hayden, Ian, Corey, Jalyn, Levi, Mae, Rae, Gage, Kayden, and Karlei Kaelyn.
Nicholson Funeral Home is serving the family.