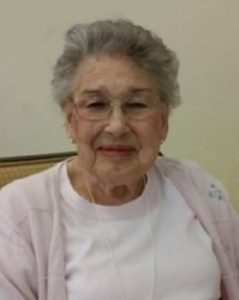 Irene Shoemaker, devoted mother, teacher, wife and friend, passed away Tuesday, January 3, 2023, surrounded by her family. Born September 13, 1925, Irene was the daughter of Rev. Charles Cyrus Holland, who was the pastor of Front Street Baptist Church, Statesville, and Texie Catherine Bess Holland. Her husband, Harold Shoemaker, was the Minister of Music and Associate Pastor at Pritchard Memorial Baptist Church, Charlotte, for over 30 years. Her loss is mourned by her children, Susan Shoemaker, Steve Shoemaker (spouse, Sue) and Jim Shoemaker (spouse Amy); her former daughter-in-law, Cherrie; and her eight grandchildren, Guenevere, Aaron, David (spouse, Dominique), Ann (spouse, Clay), Clara, (spouse, Matt), Catherine (spouse, Chason), Charlie (spouse Taylor ), and Claudia (fiancé Hayes); granddaughter-in-law, Suzie; and eleven great-grandchildren.
Irene received her education at Mars Hill College and Meredith College (BA) and received a Masters in Early Education at UNC-Greensboro. She was an exceptional and beloved teacher of young children, teaching first grade at Eastover Elementary School. After retiring, she continued to teach at the Through The Week School of Myers Park Baptist Church. She radiated unconditional love and was a woman of deep faith. Her family and friends give God deep thanks for her life and rise up and call her blessed. Memorial gifts may be given to the Ministry of Music at Pritchard Memorial Baptist Church, Charlotte.
Her Memorial Service will be at Pritchard Memorial Baptist Church, Charlotte, Saturday, January 7, 2023, at 12:30 p.m. The receiving of friends begins at 11:30 a.m. at the church.
Arrangements are in the care of Kenneth W. Poe Funeral & Cremation Service, Charlotte, N.C. Condolences can be shared at www.kennethpoeservices.com.