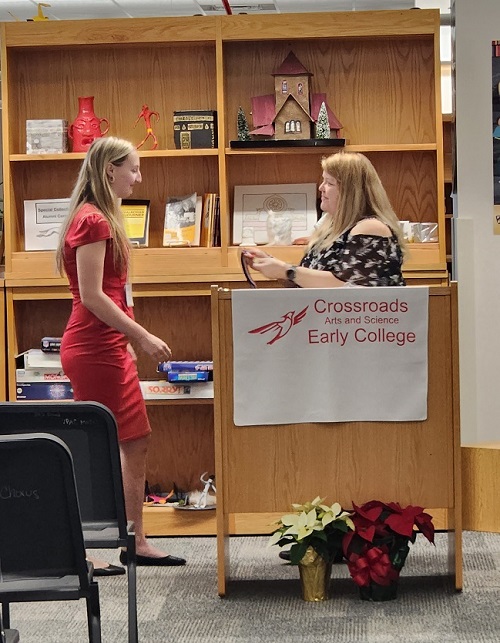 FROM STAFF REPORTS
Crossroads Arts & Science Early College recently hosted North Carolina's Future Business Leaders of America (FBLA) Northwest Regional Leadership Conference.
The conference included competitive events, personal development workshops and networking connections for participants. The students had opportunities to meet with members of various FBLA chapters while promoting business education and professional skill acquisition.
The workshops present covered different aspects of communication, ranging from public speaking to the tenets of active listening.
Northwest Region Vice President Kaylee Greer and Crossroads FBLA President Haley Murdock guided attendees through a speed dating exercise in order to practice interpersonal communication.
Participants took turns asking questions and formulating responses to hone their skills in active listening and polite body language. A workshop conducted by Melinda Van Patten covered different aspects of public speaking, centering on the importance of tone, inflection and nonverbal communication.
Van Patten directed students through a process of describing and drawing simple images with just a verbal description.
After lunch the attendees took part in a question-and-answer session with area business professionals.
Lee Greer from The Cleaning Market, Jennifer Galliher from Galliher Home Realty, Melinda Van Patten from Erate Central and Jennifer Greer from the Iredell County Department of Social services volunteered their time to speak with the students. They answered questions about the education and skills needed to be successful in work, business and life.
Outside of workshops, participants took part in competitive events showcasing their skills in public speaking and job interviews and knowledge of various business-related topics.
Awards
Accounting
♦ First place: Yamiha Encarnacion, Carson High School
♦ Second place: Andrew Lee, Carson High School
♦ Third place: Michael Whitfield, Carson High School
Business Calculations
♦♦ First place: Caden Mirraco, Carson High School
♦ Second place: Ethan Wilson, Carson High School
♦ Third place: Yajat Govardhan, Crossroads Arts & Science Early College
♦ Fourth place: Ashley Carroll, Crossroads Arts & Science Early College
Business Communication
♦ First place: Paige Rider, Crossroads Arts & Scince Early College
♦ Second place: Carissa Marcum, Lake Norman High School
♦ Third place: Maya Plummer, Lake Norman High School
♦ Fourth place: Rene Pacheco Caballero, Jesse C Carson High School
Database Design & Application
♦ First place: Brenda Alva, West Rowan High School
Future Business Leader
♦ First place: Kaylee Greer, Crossroads Arts & Science Early College
Intro to Business Procedures
♦ First place: Reagan Fowler, Crossroads Arts & Science Early College
♦ Second place: Daamini Gajula, Lake Norman High School
♦ Third place: Jocilyn Chester, Crossroads Arts & Science Early College
♦ Fourth place: Dallas Lynch, West Rowan High School
Intro to Information Technology
♦ First place: Mitchell Schray, Lake Norman High School
Intro to Parliamentary Procedure
♦ First place: Alexandra Stansberry, Crossroads Arts & Scinece Early College
♦ Second place: Dina Meija, Carson High School
Into Public Speaking
♦ First place: Shamara Litaker, West Rowan High School
♦ Second place: Marilyn Beck, Crossroads Arts & Science Early College
Job Interview
♦ First place: Kayla Hernandez, Carson High School
♦ Second place: Jayla Clement.West Rowan High School
♦ Third place: Micah Deurr, Lake Norman High School
Networking Infrastructure
♦ First place: Raoul Eno, Crossroads Arts & Science Early College
Public Speaking
♦ First place: Jocelyn Mills, Crossroads Arts & Science Early College
♦ Second place: Franco Borsini, Lake Norman High School
Spreadsheet Applications
♦ First place: Madeline Dempsey, Lake Norman High School
♦ Second place: Kayla Juiris, Lake Norman High School
Word Processing
♦ First place: Malana Rogers, West Rowan High School
♦ Second place: Mario Sierra-Nunez, Carson High School
Spirit Event – Web Banner and theme
♦ First place: Natlie McLean, Crossroads Arts & Science Early College