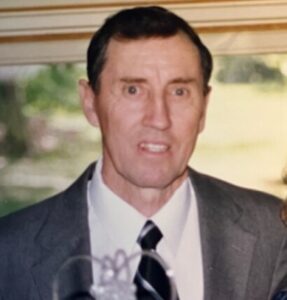 Jack Wallace McLaughlin, 91, passed away Friday, November 17, 2023.
Jack was born in Iredell County on March 7, 1932, to the late Clyde McLaughlin and Margaret Elvira McLaughlin. He was a graduate of Cool Spring High School. He married his beloved Maxine Harder McLaughlin on May 27, 1967, and they were together until her passing in 2012. Jack bravely served in the U.S. Navy during the Korean War. After his honorable discharge, he went on to be a successful poultry farmer. Jack loved the Lord. He was a member of Providence Methodist Church for over 20 years.
He was preceded in death by his parents, wife, and brothers, Clyde McLaughlin, Robert McLaughlin, Dwayne McLaughlin and Donald McLaughlin.
Left to cherish his memory are his sons, Bradley McLaughlin (Gwyn) and Eric McLaughlin (Gabrielle); brothers, Gene McLaughlin and David McLaughlin; grandchildren, Jed McLaughlin (Margaret), Luke McLaughlin, Matthew McLaughlin, Joseph McLaughlin and Alayna McLaughlin.
A memorial service will be held at 11 a.m. on Saturday, November 25, 2023, at Providence Methodist Church at 1273 Old Mocksville Road, Statesville, NC 28625 with Pastor David Bradly officiating. The family will receive friends from 9 to 10:30 a.m.
In lieu of flowers contributions may be made to Providence Methodist Church.
Nicholson Funeral Home is serving the family.