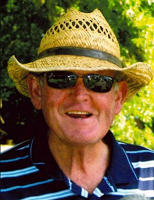 Mr. Jackie Eugene Meadows, 81, of Troutman, N.C., passed away Wednesday, January 4, 2023, at the S. Mitchell Mack Hospice House in Mooresville, N.C.
Jackie was born March 28, 1941, in Iredell County. He was the son of the late Merman Meadows and Helen Donaldson Meadows. He worked for 20 years as a builder with Duke Power Company and nine additional years with Iredell County School Systems in the maintenance department from which he retired. He was affectionately known in his neighborhood as "the Mayor of the Loop" for his willingness to lend a hand and help anyone in need.
Jackie was a loving husband to his wife Sue, a great father to more than his children, an amazing grandfather, great granddad, and the biggest friend to all those he loved.
Along with his parents, Jackie was preceded in death by his brothers, Richard Meadows and Wrenn Meadows, and his beloved sidekick, Snickers the dog.
Survivors include his wife of 59 years, Sue Smith Meadows; his son, David Meadows; his daughter, Ann Meadows; his granddaughters, Shanequa Oglesby and Tyesha (Joe) Oglesby; his great granddaughter, Arabella "spoiled one" Bernard; and a host of friends who were his family at heart.
A memorial service will be conducted at 3 p.m. on Sunday, January 8, 2023, at Troutman Funeral Home Chapel. Reverend Dan Hazen will officiate. The family will visit with friends from 2 to 3 p.m. prior to the service.
In lieu of flowers those wishing to make memorials are asked to consider Hospice and Palliative Care of Iredell County.
Troutman Funeral Home is serving the family.