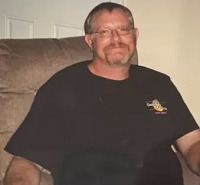 Jeffery "Bo" Turman Walker, 57, passed away on August 10, 2023, in Iredell County, N.C. Born on November 9, 1965, in the Commonwealth of Virginia, he was the son of Ruby Hale Walker and the late Ira Walker. Jeff lived a life characterized by hard work, dedication, and love for his family.
Jeff's professional life was defined by his unwavering commitment to the trucking industry, where he worked for nearly four decades. His roles as a truck driver and mechanic showcased his handy skills, determination, and strong work ethic. His colleagues admired him for his reliability and tenacity.
He is survived by his wife of 14 years, Virginia "Ginger" Klug Walker; and his children, JT, Jessica, and Amber. He also held a special place in his heart for his stepchildren, Jessica, David, Megan, and Amanda. His love for his family was evident in the time and care he took to nurture and support them. He was a beloved son to his mother, Ruby Hale Walker; and a brother to his sisters, Dana Miller (Griff) and Lisa Page (Tim); and his brother, Ira Wayne Walker. Jeff was also survived by his two grandchildren.
Jeff's life was characterized by a deep sense of responsibility and an unwavering commitment to those he loved. He was the kind of man who always had a tool in hand, ready to fix any problem that came his way, and lend a helping hand.
Jeff will be remembered as a hardworking, dedicated, and loving husband, father, grandfather, son, and brother. His legacy will live on in the hearts of those he leaves behind. He will be deeply missed by all who knew him. His life was a testament to his deep commitment to his family and his work. His memory will live on in the hearts of those he touched with his kindness, his dedication, and his love.
As we remember him, let us honor his memory by embracing these values in our lives. A Celebration of his Life will be announced at a future date.
Online condolence may be made to the family at www.nicholsonfunerals.com.
Nicholson Funeral Home has the honor of serving the family.