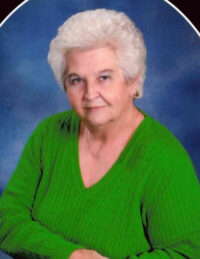 Jo Ann Deal Flummer, 82, of Statesville, N.C., passed away on Tuesday, September 26, 2023, at her home.
Jo Ann was born March 12, 1941, in Iredell County. She was the daughter of the late Etta Sue Deal Wann. Jo Ann was a 1959 graduate of Celeste Henkel High School. She retired from GL Wilson and worked for Pepsi Bottling Co. She was a wonderful caregiver to anyone in need. She was a master cake baker and loved to cook family meals every Sunday.
Along with her mother, Jo Ann was preceded in death by her stepfather, Ben Wann.
Those left to cherish Jo Ann's memory include her children, Maloy (Michelle) Frye, Annette Frye (Ron) Kiser, Beverly Frye (Terry King), and Vance (Shirley) Flummer; along with three grandchildren, Jade Frye, Cassie Nicholson and Tayler Kiser, six great grandchildren and numerous beloved cousins.
The family will greet friends from 5 to 6:30 p.m. on Thursday, September 28, 2023, at Troutman Funeral Home. A celebration of life will follow the visitation in the funeral home chapel, with Rev. Brian Burgess officiating.
In lieu of flowers those wishing to make memorials are asked to consider Hospice and Palliative Care of Iredell County.
"Today I lost a friend, and my heart is broken. You live life thinking you have all the time in the world and then a phone call. I will remember my friend and celebrate her life. She was part of my life for 30 or more years. I think about her laughing, her caring nature, her stubbornness that she could do it all. She did do it all as she worked, cooked, cleaned, cheering everyone on in their lives. She always checked on everyone. If you needed anything she was there. She loved her family beyond love, and she loved her friends. She had a golden heart. Our world has lost a bright beautiful star. I learned so much from her and I benefited from her friendship. Her family hurts and her friends hurt as we grieve the loss of a very special angel who has gone to meet her maker."
Troutman Funeral Home is serving the family.