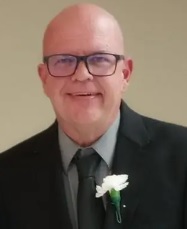 John Neal Cranford Jr., 55, of Union Grove, N.C., passed away on Tuesday, July 18, 2023. Born on January 29, 1968, in Iredell County, he was the son of Shirley Nicholson Cranford and the late John Neal Cranford Sr.
John was a retired Narcotics Investigator for the Statesville Police Department. He retired after 20 years of dedicated and faithful service where he held many positions. However, his favorite was serving as a School Resource Officer. He was a member of Union Grove United Methodist Church and a Freemason with the Grassy Knob Masonic Lodge #471. John was a soccer coordinator for Union Grove and coached his daughter's soccer team for several years. He also coached the girls soccer team at Statesville High School.
John had an enjoyment for hunting and fishing, where he and his "furry friend" Clyde rode together on those trips. He enjoyed playing practical jokes and was known to have a great sense of humor. John was a "kind-hearted" individual who would help anyone who needed it, and he never met a stranger. He had a passion for cooking and was very good at it. He had a love of learning and was very intelligent and knowledgeable about a variety of subjects, especially showing interests in Theology and Philosophy.
He was preceded in death by his father, John Neal Cranford Sr.
Those left to cherish his memory include his wife of 35 years, Melissa Arnold Cranford; his daughter, Jenna Marie Cranford; grandson, Derrick "Littlemon" Neal Bradley; his mother, Shirley Nicholson Cranford; sister, Chrystal Cranford Sloan and her husband Tommy; his niece, Tara Faith Sloan; his very special cousins, Michael Souther, Colleen Johnson, and Jerry Johnson; his aunt, Willia-Sue Souther; and his "furry friend" Clyde, who rode with him everywhere.
A Celebration of his Life will be announced.
Nicholson Funeral Home has the honor of serving the family.