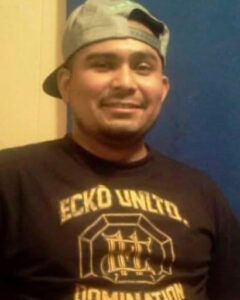 Jose Alberto Vazquez, 26, passed away Saturday, September 23, 2023. Jose was born on September 6, 1987, to Francisco Vazquez and Silvia Trejo.
Jose enjoyed collecting guns and going out to shooting ranges. He was always so kind and always smiling. Jose enjoyed spending time with his children and nieces and nephews. He enjoyed working and learning new things with his brother-in-law. Jose was a selfless person; every time you asked him for help or for a favor he would always say yes. He was a huge UNC Tar Heels and Carolina Panthers fan. The majority of the time you would always see him in either tees! His mother was his best friend. He loved spending time at his sister's house to enjoy his nieces and nephews.
He was preceded in death by his grandmother, Elia Quintanilla.
Left to cherish his memory are his father, Francisco Vazquez; mother, Silvia Trejo; children, Nohea Fitzgerald (Vazquez) and Derrick Vasquez; brother, Javier Trejo; sister, Leslie Santos; brother-in-law, Chris Santos; and nieces and nephews, Landon Santos, Audrina Santos, Noah Santos, Sophia Santos and Daniela Trejo.
Visitation will be held Saturday, September 30, 2023, from 12 to 2 p.m. at Nicholson Funeral Home. Funeral service will be following from 2 to 2:30 p.m. in the Chapel of Nicholson Funeral Home. Burial will be held at Oakwood Cemetery beginning at 3 p.m.
Nicholson Funeral Home has the honor of serving the family.