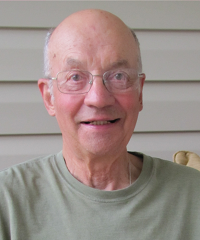 Kaye Wilbur Shaffer, 86, of Statesville, N.C., passed away Sunday, March 5, 2023, at his home.
Mr. Shaffer was born September 8, 1936, in Bucyrus, Ohio, and was the son of the late Alton George Shaffer and the late Ada Lucille Brillhart Shaffer. In addition to his parents, he was preceded in death by his younger brother, Keith. Kaye was a graduate of Shelby High School in Ohio. He earned a degree in English literature from Miami University in Ohio and then served two years in the U.S. Army. He was employed at Therm-O-Disc in Mansfield, Ohio, for 25 years, followed by 15 years with Clark Equipment in Statesville.
He is survived by Barbara Berger Shaffer, whom he married on July 1, 1978. He is also survived by their daughter Allyson and her husband Alex of Chapel Hill, N.C., and his son David and his wife Adele of Collegeville, Pa. He has two grandchildren, Anna, who lives in Philadelphia, and Christian, who is a student at Villanova University. Kaye is also survived by many nieces, and nephews, and some very good friends in Tennessee and across the country.
Kaye also helped raise two stepchildren from a previous marriage, Terry Rucker of Vallejo, Calif., and Kim Chilson, of Hiwasse, Ark.
Kaye was a very involved parent, a proud attendee of his son's many band concerts and an enthusiastic coach for his daughter's softball team and son's baseball team.
An avid golfer, Kaye especially loved to play at the course in his hometown of Shelby, Ohio, where he first developed a love for the sport as a caddy in junior high school. After retirement, he golfed frequently with a fun group of friends at various golf courses in the Hickory and Statesville area.
Kaye was infamous for his sense of humor, and sometimes he laughed so hard no sound came out, causing everyone around him to break into fits of laughter themselves.
A celebration of life will be conducted at 2 p.m. on Saturday, March 18, 2023, at St. Mark's Lutheran Church in Claremont, N.C. Pastor Heather Langan will officiate. Burial will follow at St. Mark's Lutheran Church columbarium.
In lieu of flowers, memorials may be given to Hospice and Palliative Care of Iredell County, 2341 Simonton Road, Statesville, NC 28625 or to St. Mark's Lutheran Church, 3216 West Main Street, (P.O. Box 550) Claremont, NC 28610.
Troutman Funeral Home is serving the family.