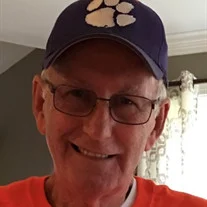 Kelly Wayne Fultz, 78, of Mooresville, N.C., and formerly of Norton, Va., and Orangeburg, S.C., passed away peacefully on Monday, July 24, 2023, surrounded by his family at S. Mitchell Mack Hospice House.
He was born January 30, 1945, in Bonnie Blue, Va., to the late Isaac Patrick Fulks and Cassie Lee Crigger Fulks. In addition to his parents, he was preceded in death by his brothers, Drexel and Donnie Fulks; and sister, Almeda Baker.
Kelly started his career in 1965 with the U.S. Postal Service. He then worked in the coal mining industry in Southwest Virginia for more than 20 years before joining the Federal Mine Safety Health Administration as a Federal Mine Inspector for 20 years, before retiring in 2006. He was a member of Masonic Lodge #259 in Norton, Va. He enjoyed Clemson Tigers football, boating, fishing, and attending his grandchildren's sporting events. Kelly's greatest joy was spending time with his family and friends.
Kelly is survived by his loving wife of 57 years, Barbara Fultz; daughters, Presley Howlett and husband Brian of Mt. Pleasant, S.C., and Katherine Hiteshue and husband Kurt of Mooresville; grandchildren, Evan, Hannah, Morgan, and Lauren Rosier, and Emma, Madeline, and Wilson Hiteshue; brothers, Randall Fultz and wife Nancy, and Ronnie Fulks and wife Linda; sisters, Jean Hanson and Glenda Cassell and husband Jerl; brother-in-law, Donald Baker; and sister-in-law, Elizabeth Fulks.
The family would like to extend their sincere appreciation to all the hospice nurses, nursing assistants, physicians, and staff at S. Mitchell Mack Hospice House, and all of the caregivers at Novant Cancer Center in Mooresville. Your kindness and gentle care will never be forgotten.
A Memorial Service for Kelly will be held on Monday, July 31, at 3 p.m. in the Chapel of Cavin-Cook Funeral Home with Rev. John Miles officiating. In lieu of flowers, memorials may be made to S. Mitchell Mack Hospice House, 1325 Mecklenburg Hwy., Mooresville, NC 28117.
Cavin-Cook Funeral Home and Crematory, Mooresville, is serving the Fultz family. Condolences may be sent to the family at www.cavin-cook.com.