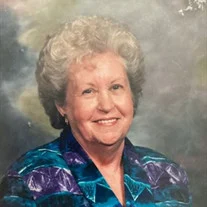 Lula Ann Hill, 92, of Madison, W.Va., entered into her heavenly home on Monday, July 24, 2023, in Mooresville, N.C., after a brave battle with a long illness.
Lula was born on Wednesday, March 18, 1931 in Quinland, W.Va., a daughter of the late Ray and Mabel Price Miller. In addition to her parents, she was predeceased by by her husband, R.B. Hill; brother, Benjamin Miller; sisters, Emma Jarrell and Dorothy Miller; son, Dennis Gibson; and daughter Sandra Gibson Schimmel.
She will be remembered for her independent, hardworking, always-on-the-go personality, as well as the love she had in her heart for anyone who knew her. She was a member of the Madison Baptist Church for over forty years, as well as the proud owner of a local landmark, The Hotel Madison, for over fifty years. Lula ran her business with pride and could be seen sitting on the front porch often, a cup of coffee or Diet Coke in hand, having engaging conversation with anyone who would walk by. "Lou's Place: Sit Long, Talk Often" was the hand painted sign that hung on the 100-year-old brick exterior, and she was always happy and ready to welcome anyone who would wish to do so.
Those left to cherish her memory include her sons, R.B. (Michelle) Hill II of Mooresville, N.C., and Gregory (Debby) Gibson of Madison, W.Va.; sisters, Nancy Brouillard of Egg Harbor Township, N.J., and Loretta Holstein of Madison, W.Va.; and grandchildren, Michael (Amanda) Gibson of Brunswick, Ohio, Christopher Gibson of Danville, W.Va., Kaeleigh Anne Hill of Dunbar, W.Va., Justin (Cindy) Marcum of Holden, W.Va., Brandy Cohen and Sandy Workman of Charleston, W.Va. She was also blessed with twelve great-grandchildren, Olivia Setser, Maggie Gibson, Caleb and Noah Gibson, Shaelynn, Maylee and Walker Marcum, Hannah, Cody and Savannah Gibson, and Amber and Tyler Cain, as well as five great-great grandchildren, Hayden and Maliki Gibson, Derek and Derrius Long and Shai Williams.
Per Lula's request, a graveside service is scheduled for Friday, July 28, 2023, at two o'clock in the afternoon at Memory Gardens, Low Gap, W.Va., with Bill Cook officiating.
Cavin-Cook Funeral Home and Crematory in Mooresville, N.C., has been entrusted with serving Mrs. Hill and her family.