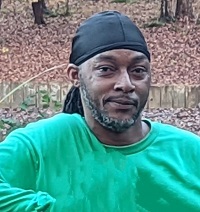 Mr. Kevin Maurice Boller, 42, affectionately known as "K.B.," passed away unexpectedly on Friday, March 3, 2023, at his residence.
Kevin was a loving husband, son, and brother. He was an avid football fan and loved the color blue. He was born in Statesville, N.C., on August 28, 1980, to Linda and Melvin Boller.
Kevin was a kind and funny person. He loved to hang out with family and friends. He would help anyone that needed help, even if it was just sitting and listening to what that person had to say.
He attended Iredell-Statesville Schools and worked in manufacturing.
He was preceded in the death by his grandparents, Bert and Virginia Leach; uncles, Nathaniel, Larry, Ralph, and Eric; and aunts, Doris and Shirley Leach.
Kevin leaves behind his wife Rebecca and dog Jasmine, of the home; his parents; brothers, Rego Leach (Tomika), and Melvin Leach (Montoya); and sisters, Shenika Boller (Charles) and Dorothea Mitchell (Shawn). Kevin also had a host of nieces, nephews, uncles, cousins and friends.
Visitation will be held at Bunch-Johnson Funeral Home on Thursday, March 9, 2023, from 2 until 3 p.m. Funeral services will follow at 3 p.m.
The family would like to express their appreciation for the time, effort, care, and especially the empathy that Iredell County EMTs and the Iredell County Sheriff's Office showed towards our loved one, Kevin.
The Boller and Leach family would like to extend thanks and appreciation to our family, friends, and community for everything they've done for us during our time of loss. We also would like to extend a very special thanks to Bunch-Johnson Funeral Home.
Fond memories and expressions of sympathy may be shared at www.bunchjohnsonfuneralhome.com for the Boller-Leach family.
Bunch-Johnson Funeral Home is serving the family.