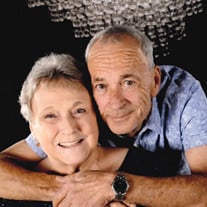 Larry Max Cooke Sr., 75, of Mooresville, N.C., passed away on Tuesday, July 18, 2023, at Lake Norman Regional Medical Center surrounded by his family. He was born September 28, 1947, in Mooresville to the late Jack Vichard Cooke and Estelle Love Cooke. In addition to his parents, he was preceded in death by a son, Larry Max Cooke Jr., and Aunt Idell and Uncle Carl Radford, who helped raise Larry after his mother's death.
Larry grew up in the Cascade community of Mooresville. He proudly served his county in the U.S. Army and was a Vietnam Veteran. He was employed at Elox Corporation for over 40 years before his retirement. Larry enjoyed a good breakfast, playing poker, was a championship horseshoe pitcher, and was a member of the Mooresville Moose Lodge #2012.
Larry is survived by his loving wife of almost 58 years, Judy Brown Cooke; son, Chad Cooke; daughter-in-law, Shannon Bell; brothers, Vichard Cooke (Carol) and Leslie Cooke (Barbara); grandchildren, Ava and Max Cooke; fur baby, Maggie; and numerous nieces and nephews.
Visitation for family and friends will be on Sunday, July 23, from 3 to 4 p.m. at Cavin-Cook Funeral Home. Services will be held at 4 p.m. in the Chapel of Cavin-Cook Funeral Home with Eddie Karriker officiating. Burial will follow the service in Glenwood Memorial Park with full military honors.
In lieu of flowers, memorials may be made to Richard's Coffee Shop, 165 N. Main Street, Mooresville, NC 28115.
Cavin-Cook Funeral Home and Crematory, Mooresville, is serving the Cooke family. Condolences may be sent to the family at www.cavin-cook.com.