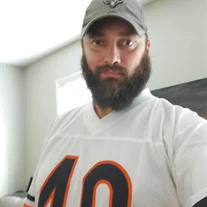 Joseph Basil Coughlin, 44, passed on due to natural causes at his home on Friday, July 14, 2023. Joey was born on September 1, 1979, in Peoria, Ill. He was raised in Monticello, Ind., and spent his adult life in Mooresville, N.C.
He is survived by his mother, Cheryl Lynn Crismore Coughlin, and father, James Coughlin, of Mooresville. He also leaves behind his precious daughter, Rubilynn Rose, who he adored and dedicated himself to raising with courage and strength alongside his best friend and lifelong partner, Sarah Coughlin. Joey is also survived by his sister, Amanda Brinkley, and brother, Daniel Coughlin. Joey is also survived by his paternal grandmother, Jean Coughlin of Tinley Park, Ill., and countless aunts, uncles, nieces, nephews, cousins, and dear friends.
Joseph was preceded in death by his maternal grandparents, Rosemary and Basil Crismore of Peoria, Ill., and paternal grandfather, Daniel Coughlin of Tinley Park, Ill.
Joey was a man who was known for living life to the fullest. His energy will fill the heavens. He leaves us now, not broken, but enriched with memories of late-night card games, long drives with loud music, and countless hours of infectious laughter. Family was everything to Joey. We all knew him as a son, a brother, an uncle, a cousin, a friend, and his greatest role, father. His biggest accomplishment was raising his incredible young daughter Rubi, who is a true manifestation of his greatest qualities. When meeting Joey, it felt like you had just found your new best friend. Family reunions were always the highlight; hiking with cousins through caves, singing with aunts and uncles at the shelter, and staying up late in the hotel lobby with whoever we could convince to join the party. This was his legacy, a collection of family, friends, and strangers together living large with joy, hard work, and good times.
Family and Friends are invited to join us for his visitation at Cavin-Cook Funeral Home, 494 East Plaza Drive, Mooresville, NC, 28115 on Tuesday July 25, 2023, from 6 to 8 p.m. A celebration of his life will continue with a Memorial Mass on Wednesday, July 26, 2023, at 11 a.m. at Saint Therese Catholic Church, located at 217 Brawley School Road, Mooresville, NC 28117.
Cavin-Cook Funeral Home, Mooresville, is serving the Coughlin family. Condolences may be made to the family at www.cavin-cook.com.