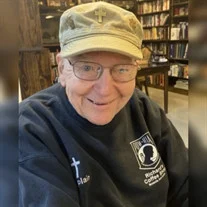 Leo Fahey was reunited with his beloved bride Joyce in Heaven on November 1, 2023. He died peacefully at the S. Mitchell Mack Hospice House in Mooresville, N.C.
He is survived by his favorite daughter Kerry and husband Michael of Wakefield, Mass., and son Sean and wife Jade of Mooresville, N.C., as well as four loving grandchildren, Samson, Christian, Luke, and Siobhan.
Leo was born in 1933 in Dorchester, Mass. After graduating from high school, he went into the seminary. On his journey to being ordained a Catholic priest of the Jesuit Order he was awarded a Doctorate in Sacred Theology from Catholic University in Washington, D.C. After teaching at Boston College and serving as a parish priest for a short time, he requested papal permission to leave the priesthood and pursue a different path in life. This led him to a second career in psychiatric social work at Family Counseling and Guidance center in Boston, which was part of Catholic Charities. Just as importantly, it led him to his lifelong love Joyce. After raising a family for more than 25 years in the Boston area, it was time for a change. Upon retirement, he and Joyce relocated from the Boston suburbs to Mooresville, N.C., to continue their life journey.
Throughout Leo's life there were central themes of family, the Boston Red Sox, his faith, and his desire to help others on their faith journey. At St Therese, he was active in MOST (Men of St. Therese) as well as the RCIA program and the Why Catholic study group. His cursillo reunion group of close friends ran weekly for more than 15 years. He was a long-time attendee of the Sunday 800 mass followed by his beloved breakfast group. Outside of church, his personal mission was to enrich the faith of those around him. Initially, he volunteered at Pine Street Inn homeless shelter in Boston. He then began a long service in prison ministry at Norfolk State Prison in Massachusetts. When he came to Mooresville, he was looking for a different group to impact. He developed a close relationship with Welcome Home Veterans and Richard's Coffee Shop in Mooresville, where he served as Chaplain and spent many days with dear friends. He was truly blessed to be able to share his sense of humor with an extension of his family at St. Therese and Richard's Coffee Shop. He was known to close a conversation with "Don't forget everything I told you." For most people who were impacted by Leo's love they certainly will not forget the wisdom and friendship he shared.
The family will receive friends on Friday, November 3, from 5 to 8 p.m. with a prayer service at 7 p.m. at Cavin-Cook Funeral Home. A Mass will be held at 11:30 a.m. on Saturday, November 4, at St. Therese Catholic Church in Mooresville.
Details for LIVE access are below:
Livestream start time: 11:25 a.m.
Livestream end time: 12:45 p.m.
The Broadcast can be accessed LIVE from this page on our website: https://www.sainttherese.net/mass-livestream
Viewers should scroll down the page and click the arrow in the center of the StreamSpot viewer to start watching the stream (It will say "Live" in the upper left corner beginning at 11:25 a.m.).
To access the broadcast after the funeral:
The broadcast can also be watched from the Mass Livestream page on our website for one week after the funeral has ended. Viewers will need to click in the StreamSpot viewer, then click the option for "Previous Broadcasts." From there, us the arrows to scroll through the broadcasts to get to the funeral and then click the picture to play the broadcast.
In lieu of flowers, memorials may be made to Welcome Home Veterans, c/o Richard's Coffee Shop, 165 N. Main Street, Mooresville, NC 28115 (www.welcomevets.com).
Cavin-Cook Funeral Home & Crematory, Mooresville, is serving the Fahey family. Condolences may be made to the family at www.cavin-cook.com.