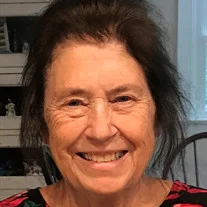 Loucille Seabolt Purvis, 75, of Mooresville, N.C., passed away on Tuesday, June 20, 2023. She was born on October 14, 1947, in Denton, N.C., to the late Paul and Fannie Smith Seabolt.
She attended Prospect Presbyterian Church. Loucille went back to college at the age of 50 to receive her associate degree in business. She enjoyed being at the beach and gardening. She was a wonderful mother and grandmother. She loved being with her children and grandchildren, and her canine companion, Dash. Loucille loved her church and church family.
In addition to her parents, she was preceded in death by five sisters and three brothers.
She is survived by her children, Eddie Purvis, Paula Purvis and husband Gary, Scottie Purvis and wife Amy, James Purvis and wife Angela, Buddy Purvis and husband Tyler, Della Purvis, Serena Atkins and husband Samuel, and Lanny Purvis and wife Kaytlyn; 12 grandchildren; and one great grandson.
Services will be held on Sunday, June 25, at 2 p.m. at Prospect Presbyterian Church with Rev. Will Gipe officiating. Burial will follow the service in the church cemetery.
In lieu of flowers, memorials may be made to Alzheimer's Association, 4600 Park Road, Suite 250, Charlotte, NC 28209.
The family would like to thank Angela Purvis for all the loving care that she gave to their mother, and to Karen Brown, for being such a great caregiver and friend to her.
Cavin-Cook Funeral Home and Crematory, Mooresville, is serving the Purvis family. Condolences may be sent to the family at www.cavin-cook.com.