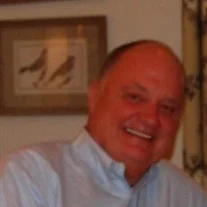 Rees Mayrant Brody, born on April 18, 1948, in Jackson, Miss., passed away on June 20, 2023. He was the son of the late Edward William Brody and Sallie Beard Brody.
Rees graduated from Myers Park High School in 1966 and from North Carolina State University in 1970 with a degree in engineering. He worked as a mechanical engineer for many years before retiring.
In 1975, Rees and Nancy moved to Lake Norman, where he lived for the rest of his life. Rees had a deep love for the lake and spent many afternoons on the dock, teaching his children to water ski and hosting countless gatherings with family and friends. He cherished the memories made on the water and instilled that love in his children and grandchildren. His legacy will live on through the many happy times spent on the lake.
Rees had an affection for beach music, especially live music. He enjoyed attending concerts and festivals with Nancy and their dear friends. His love for beach music was infectious and always brought a big smile to his face.
Rees' favorite thing to do was spend time with his family. They were his greatest source of pride. He cherished every moment he spent with Nancy, his children, and grandchildren. He treasured these moments and would always call or text the "Brody Bunch" family chat to let everyone know how much he loved being together. His love for his family was unwavering, and he will be remembered for the joy and love he brought to their lives.
He joined Williamson's Chapel United Methodist Church in 1976 and was a faithful and involved member. Rees was a man of high integrity, and his honesty and strong moral character were evident in everything he did. He was respected by all who knew him for his steadfast principles and his commitment to doing what was right. He was a man of his word, and his integrity was a guiding force in his life.
In his retirement, Rees discovered a passion for woodworking and spent countless hours in his workshop. He had a natural talent for creating beautiful pieces and made many special gifts for his family and friends. His creations were always made with love and attention to detail. His family and friends will treasure these gifts as a reminder of his love and talent.
Rees will be deeply missed by his family and friends. His memory will be cherished by his devoted wife of almost 50 years, Nancy Hendricks Brody; his children, Philip Rees Brody (Tyler) of Charlotte, Anna Brody Scaffe (Toby) of Charlotte, and Sarah Elizabeth Brody of Troutman, N.C. He will be missed greatly by his seven grandchildren, who affectionally referred to him as "Poppy," Will and Molly Brody, Banks and Mary Kirk Scaffe, and Jack, Sallie and Charlie Leach. He is also survived by his brother, Edward William Brody Jr. of Maryland. He will be greatly missed by his cherished and beloved pets and grand dogs. Rees was blessed to have the love and support of his dedicated caregiver for the past seven years, Lisa McKenzie.
The family will receive in the chapel at Williamson's Chapel United Methodist Church on Saturday, June 24, from 10 to 11:30 a.m. A Celebration of Life will follow at 11:30 a.m. in the chapel with Rev. Wesley Smith and Rev. Toni Ruth Smith officiating.
In lieu of flowers, memorials may be made to the Juvenile Diabetes Research Foundation at www.jdrf.org.
Cavin-Cook Funeral Home, Mooresville, is serving the family of Mr. Brody. Condolences may be made to the family at www.cavin-cook.com.