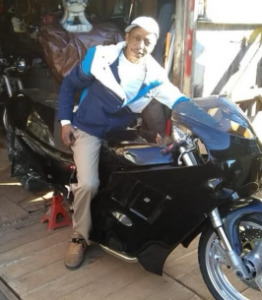 Lynnwood Jones, 63, was born in Iredell County on February 21, 1961, to the late John Albert Jones Sr. and Julia Davidson Jones. He departed this life on Monday, October 30, 2023, at his residence in Statesville, N.C.
Mr. Jones attended the Iredell-Statesville Schools and was self employed as a mechanic. He was passionate about motorcycle racing, tractor driving, Farming, and his grandchildren.
Lynnwood leaves to cherish the memory of his life two sons, Devin Thomas and Lynn O'Brian (Marketta McClelland) Jones; a daughter, Amanda Lanette Jones; his former wife, Gay Morrison; three brothers, John E. (Teresa) Jones, James Arthur "Rat" Jones and Bernon (Vikki) Jones; a sister, Helen Jones; an uncle, James Curtis Harrison; seven grandchildren, Julian Dalton, Justis Jones, Laniza Hughes, Lynn Jones Jr., Devin Thomas Jones Jr., Lynia Monse' Jones and Khloe Anis'ah Jones; special cousins, Steven "Stevie D" Smith and DeAndre Moore Jr.; special friends, Shannon Roseboro, Wilbur Turner, Vincent Sherrill, Richard Freeman, Tamika Jackson, Jamie Smyre and Joey Rucker; and a host of nephews, nieces, other relatives, family, and friends.
A Celebration of Life service will be held at Christian Outreach on Sunday, November 5, 2023, at 3 p.m. Visitation will be from 2 until 3 p.m., and burial will follow in the Belmont Cemetery. Rev. Mike Gillespie will officiate and Rev. Charles Davidson will deliver the Eulogy. Flowers may be sent to Rutledge and Bigham Funeral Home in care of Lynnwood Jones.
Rutledge & Bigham Funeral Home is serving the family.