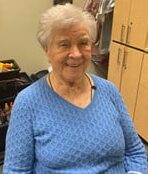 Marie Koltas Haught of Mooresville, N.C., and formerly of Girard, Pa., passed away on Saturday, November 4, 2023, at Trinity Oaks in Salisbury, N.C. Born March 5, 1929, in Mala Poloma, Czechoslovakia, she was a daughter of the late Stefan and Mary Valko Koltas.
As a young girl, Marie lived in Czechoslovakia during the German invasion and overthrow of the Czechoslovakian government. She attended school at the time Germans attempted to teach the Nazi traditions to the students. Her mother, Mary, was born in Ohio, and in 1939 following the German invasion wanted to return to the United States. Her uncle, John Douglas, lived on Crane Road in Cranesville, Pa., and owned a small store there. He sponsored Marie's mother to come to the United States and Marie was able to travel along, later becoming a United States citizen in 1951.
She graduated from Albion High School and later the Ora Jean Beauty Academy in Erie, Pa. She was a hairdresser at her own beauty salon, "Marie's Beauty Shop." She had worked for many years at the Wallace C. Mulligan Funeral Home and the Bruce Hicks Funeral Home in Girard. She also worked for many years at Pleasant Ridge Manor. Following her retirement, she worked in the real estate field for Jim Borland Real Estate in Girard. She was a member of the Holy Trinity Lutheran Church in Albion and also was a member of the Girard Area Planning Board. She was a District County Committee Woman for the Republican Party for many years and chaired that office for two years.
She was preceded in death by her husband, Robert J. Haught, whom she married June 2, 1962, in Girard; and her son-in-law, Robert Gido.
She is survived by a daughter, Susan H. Gido, of Mooresville, N.C; son, Douglas F. Adams, and wife Jo of Huntersville, N.C.; four grandchildren, Jessica and Justin Adams (Chantee), and Hayden Gido, all of North Carolina, and Dylan Gido, of Kingwood, W.Va.; and two great grandchildren, Peyton and Carson Adams.
A private service for immediate family will be held at Cavin-Cook Funeral Home in Mooresville, N.C., followed by interment at Knight of Pythias Cemetery in Salem, W.Va.
In lieu of flowers, memorials may be made to Holy Trinity Lutheran Church of Albion, Pa., or Friends of NC Accessible Books and Library Services.
Cavin-Cook Funeral Home, Mooresville, NC, is serving the family of Mrs. Haught. Condolences may be made to the Haught family at www.cavin-cook.com.