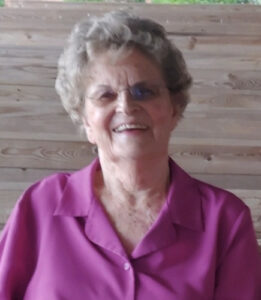 Martha Jane Harris Lundy, 83, of Statesville, N.C., passed away Sunday, October 22, 2023, at her residence.
Martha was born November 8, 1939, in Iredell County and was the daughter of the late Jack Harris and Lucille Barker Harris Morrison. She was a graduate of Statesville Senior High School and on February 9, 1958, she married John Coite Lundy, who survives, of the home. She grew up attending Hebron Baptist Church, where she met her husband under the arbor, and later in life they became members of Mt. Vernon Baptist Church. In addition to raising her family, she always took time to help others, especially volunteering at Harmony Elementary School.
In addition to her husband of 65 years, Martha is survived by two sons, Mike Lundy (Nancy) of Statesville and Ken Lundy (Debbie) of Statesville; five grandchildren, Jennifer Mecchella (Shawn) of Florida, Stephen Lundy (Tiffany) of Statesville, Ashley Bullock (Nick) of Winston-Salem, Aaron Lundy of Statesville, and Bethany Costner (Brandon) of Lincolnton; eight great grandchildren; two brothers, Richard Harris (Sylvia) and Tony Harris (Kitty); and one sister, Ruth Goldsmith (Chip).
She was preceded in death by one daughter, Sarah Lundy; and one brother, Tim Harris.
Funeral services will be held at 2 p.m. on Wednesday, October 25, 2023, at Hebron Baptist Church with Rev. David Childress officiating. Burial will follow in the church cemetery. The family will visit with friends on Wednesday from 12:30 to 2 p.m. in the fellowship hall at Hebron Baptist Church.
In lieu of flowers, memorials may be made to Hebron Baptist Church. Online condolences may be made to the family at www.troutmanfuneralhome.com.
Troutman Funeral Home is serving the family.