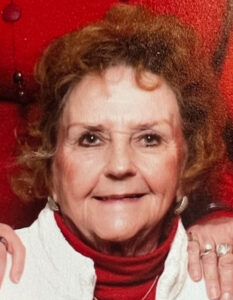 Mary Marie Johnson Schwartz, 89, of Little River, S.C., and formerly of Statesville, N.C., passed away on Thursday, October 26, 2023. She was the wife of the late Edwin Richard Schwartz and the daughter of the late Clarence Alvin and Mulinda Bell Johnson.
She was a graduate of Harmony High School and retired from the medical profession, where she worked as a Licensed Practical Nurse. She enjoyed swimming, travel, and especially her dogs. She previously attended Mountain Road Baptist Church and was a member of the YMCA.
In addition to her husband and her parents, she was preceded in death by one granddaughter, Lacey Wood; three sisters, Lorene Johnson Creedmore, Grace Johnson Hedrick, and Edna Johnson; and sister-in-law, Carolyn Brawly Johnson; and two brothers, Daniel Tillford Johnson and William Frank Johnson (Margaret Currant Johnson), as well as their grandson, Jeff Johnson.
Mary is survived by one daughter, Rhonda Carol Galliher (Gary) LaVenia and two step daughters, Debra Schwartz Schwall and Doreen Schwartz (Junior) Ramirez. Also surviving are six grandchildren, Whitney Wood, Nathan Wood, Chrissy Schwall, Holly Schwall, Jade Haffey, and Max Ramirez; as well as eight great grandchildren, Noah Wood, Alana Hodges, Isaac Johnson, Cadence Andolina, Chloe Andolina, Kayla Schwall, Jude Haffey, and Jagger Haffey.
Funeral services will be held on Wednesday, November 1, 2023, at 12 noon at Troutman Funeral Home with Rev. John Parks officiating. Burial will follow in Iredell Memorial Gardens. The family will receive friends one hour prior to the service from 11 a.m. until 12 noon at the funeral home.
Troutman Funeral Home is serving the family.