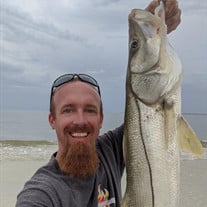 Matthew Allan Sabin, 42, of Mooresville, N.C., passed away suddenly on January 10, 2023.
Matt will be remembered for loving his family, old Fords, fishing, exploring North Carolina's many waterfalls and state parks, mountain adventures, Florida beaches, his summers at YMCA Camp Greenville and his pets.
Born and raised in Palm Beach Gardens, Fla., Matt attended the environmental science program at Jupiter High School, where he was a proud member of the Jupiter High School Warriors marching band drum line, forming friendships that would last the rest of his life. If you became Matt's friend, you stayed Matt's friend.
Every time Matt was near water, he'd be trying to hook that next big snook or large mouth bass. He developed his fishing skills in the little canal behind his childhood home and on his many family trips to Sanibel Island. Matt shared his love for fishing with his brother-in-law, Ron, and nephew, Jackson. They both caught their first snook under Matt's guidance and are also now lifelong fishermen and are sharing their passion with Matt's other nephew and namesake, Logan Matthew.
Matt's early love for Fox Body Mustangs brought him to Mooresville, N.C., and NASCAR Technical Institute. This fueled his desire for a career restoring old cars.
Mooresville is also where he met his wife Kelly. While they didn't always see eye to eye, they were undoubtedly soulmates and best friends. Anyone who saw them together would agree. When they weren't at work, you would most likely find them at each other's side — enjoying outdoor activities, checking out breweries, taking camping trips in their van, traveling, attending concerts, or just hanging out at their home. They were each other's everything.
Matt's family and friends would agree that Matt has always had a big heart. Turns out, he really did. An enlarged heart that finally gave out. He passed away suddenly from this previously undiagnosed heart condition.
Matt leaves behind his heartbroken family, including his wife Kelly Lyn (Stillman) of Mooresville, N.C.; father and stepmother, Jeff and Charleen Sabin of Stuart, Fla.; and mother, Candie Sabin of Punta Gorda, Fla.; sister and brother in law, Carly and Ron Richter; nephews, Jackson and Logan and niece Annabelle Richter, all of Punta Gorda, Fla.; and step-brother, Zach Hunter of Tampa, Fla., along with many aunts, uncles and cousins.
Service details to be announced.
In lieu of flowers, the family asks for donations to be made in Matt's honor to one of the following nonprofit organizations. Email address for family to receive donation messages: inmemoryofmattsabin@gmail.com
One Tree Planted
https://onetreeplanted.org/products/gift-trees
Best Friends Animal Society
https://bestfriends.org
The Blue Ridge Parkway Foundation
https://www.brpfoundation.org/donate
Cavin-Cook Funeral Home & Crematory, Mooresville, are serving the family.