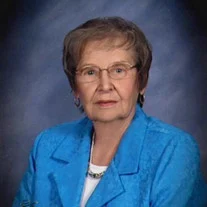 Mattie Maude Jamieson Stapleton, 88, of Mount Ulla, N.C., passed away Wednesday, Oct. 18, 2023, in her home surrounded by family.
She was born May 5, 1935, in Stewart County, Ga., to the late Jim Frank Jamieson and Minnie Dallas-Cooper Jamieson. Mattie enjoyed church, gardening, visiting with friends, cooking, music, and loving and looking after her family who adored her. She raised three mischievous boys into great men who went on to raise good families of their own. When she wasn't working at the bank, Mattie spent her time helping others in her community. She was as generous with her time and prayers as she was at her table. With her bright eyes, sassy jokes and infectious laugh, she was not only the cook but our crown jewel of our table at many Sunday dinners. Mattie was a deep well of love who will be missed more than words can tell.
In addition to her parents, she was preceded in death by her husband, Albert "Sam" Stapleton; brothers, James, William "Bill," Herman, Cooper, and Robert "Buddy" Jamieson; sister, Sue Blankenship; and special friend, Elvin Holt.
She is survived by her sons, Clark Stapleton and wife Suzanne, Mike Stapleton and wife Torri, Greg Stapleton and wife Elizabeth; sisters, Lou Heath, Mary Pearce, Melba Burrell and husband Charles, Barbra Nelson and husband Cliff Baker, Linda French and husband Jerry; grandchildren, Lauren Henderson, Bradley, Drew, Jessica, Jamie, and Tyler Stapleton; great grandchildren, Gram, Aubrey, Elliott, Everly, Jase, and Buck; and numerous nieces and nephews.
The family will receive friends on Friday, October 20, from 6 to 8 p.m. at Cavin-Cook Funeral Home. Funeral services will be held at 1 p.m. on Saturday, October 21, at Cleveland First Baptist Church with Pastor Keith Mason and Pastor Kestler Ruth officiating. Burial will follow the service in the church cemetery.
Memorials may be made to Cleveland First Baptist Church, P.O. Box 325, Cleveland, NC 27013 or VIA Health Partners (Hospice of Charlotte), P.O. Box 470408, Charlotte, NC 28226.
Cavin-Cook Funeral Home & Crematory, Mooresville, is serving the Stapleton family. Condolences may be made to the family at www.cavin-cook.com.