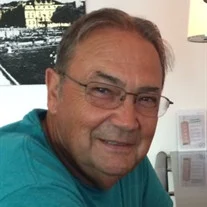 Michael Irving Dietrich, a longtime resident of Mooresville, N.C., and former resident of San Jose and Nipomo, Calif., died August 23, 2023.
Mike was born in San Francisco and moved with his family to San Jose when he was very young. He grew up in San Jose and graduated from Lincoln High School. After graduating from high school, Mike served in the California National Guard and the U.S. Army Reserve.
Mike went on to a long and successful career as a machinist, working for such notable companies as Del Monte and Pan American Machines in San Jose, and Kendall-Jackson Winery in Santa Maria, Calif., in addition to running his own machine shop.
Mike was a talented mechanic, and he spent much of life working on vehicles of one sort or another. This included two cars he spent years restoring: A 1937 Cadillac and a 1938 LaSalle, both of which would regularly win top honors at car shows in California. His love of cars extended to racing, and he enjoyed the sport at all levels, from taking in NASCAR events with his wife Paula at tracks around the nation to watching his granddaughter Emily run dirt karts in North Carolina. Mike took great pride in his yard and his gardens.
Mike and Paula moved from California to North Carolina in 2011 so they could be closer to their children and grandchildren. He had a special connection with each of his three grandchildren, and he enjoyed spending time with them.
Mike is survived by his wife of 47 years, Paula; son Steven and daughter-in-law Kim of Mooresville, son Jonathan and daughter-in-law Caitlin of Orlando, Fla., grandchildren Emily, Nora and Jack; brother Jack of Watsonville, Calif., brother Steve and sister-in-law Susan of La Selva Beach, Calif., brother-in-law Jim and wife Cathie; and brother-in-law Larry and wife Robyn.
He was predeceased by his parents Carl and Margaret; brother Richard; sister-in-law Louise, and daughter-in-law Krista.
A graveside service will be held at 11 a.m. Saturday, September 2, 2023, at Glenwood Memorial Park, 273 Glenwood Drive, Mooresville, N.C., with Pastor Will Gipe officiating.
Cavin-Cook Funeral Home, Mooresville, is proudly serving the Dietrich family.