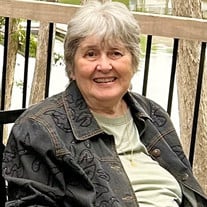 Judith Kathleen Bromsey Murphy, 80, of Mooresville, N.C., passed away peacefully on Saturday, August 26, 2023 at Atrium Wake Forest Baptist Medical Center in Winston-Salem, N.C.
She was the wife of John Fletcher Murphy of Mooresville and mother of Sheila Johnson of Myrtle Creek, Ore., Michelle Murphy of Mooresville, and Sharon Bachner of Swampscott, Mass.
Born in Johnson City, N.Y., Judy was the daughter of the late Walter and Florence (Jones) Bromsey and the sister of the late Beverly Bromsey Mikula, Ann Bromsey Cline, and Jack Bromsey. She graduated from the nursing school at Saint Joseph College in Emmitsburg, Md.. She worked as a registered nurse in Washington, D.C., where she met Fletcher, and they were married in May of 1967. She continued nursing as she raised her family in Ann Arbor and East Lansing, Mich., before the family relocated to Barrington, R.I. In Rhode Island, Judy worked at Hattie Ide Chaffee Nursing Home and volunteered her time at various ministries within St. Luke's Parish, with the Sisters of the Carmelite Monastery, and with numerous other charitable causes. Judy loved to travel, and she and Fletcher and their daughters made trips to Europe, Africa, and Asia.
The couple retired to Mooresville in 2004, and Judy continued her dedication to service as a volunteer at Serenity House, St. Therese Catholic Church, and numerous other charities. She was never far from pursuing her passion for gardening and the outdoors, and throughout her retirement years, Judy always made time for her daughters and grandchildren.
She is survived by Fletcher, Shelia, Michelle, and Sharon as well as her six grandchildren, Mitchell Vazquez, John Murphy Bachner, Casey Bachner, Caitlin Bachner, Henry Johnson, and Andrew Johnson; her sons-in-law Ed Johnson and William Bachner; and her niece Joanne Harris; and nephew Steve Mikula and his wife Mary Ann Mikula.
Visitation will be held on Tuesday, September 5, 2023, between 6 and 8 p.m. at Cavin-Cook Funeral Home at 494 E Plaza Drive in Mooresville. The Funeral Mass will take place Wednesday, September 6, at 11 a.m. at St. Therese Catholic Church at 217 Brawley School Road in Mooresville.
In lieu of flowers, please consider making a contribution to Sacred Circle St. Labre Indian School at Ashland, Montana; Mahpiya Luta Red Cloud of Pine Ridge, South Dakota; or St. Therese Catholic Church of Mooresville.
Cavin-Cook Funeral Home & Crematory, Mooresville, is serving the Murphy family. Condolences may be made to the family at www.cavin-cook.com.