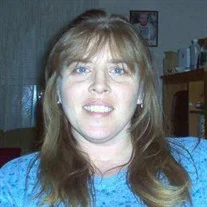 Michelle Kundrat Roberts, 55, of Statesville, N.C., passed away on Wednesday, January 11, 2023, at Iredell Memorial Hospital. She was born on March 9, 1967, in Bronx County, N.Y.
Michelle loved to cook and visiting with family and friends. She also had a passion for taking "her beach trips."
Those left to cherish her memory include her husband, Aaron Roberts; her children, Sarah Roberts and her fiancé Vald Golubon, Rebecca Johnston, Kristy Zeller, Roy Roberts and his wife Stormi, and William "Buck" Johnston and his wife Tonya; many cherished grandchildren; her mother, Marianne Cronin; and her sisters, Cathy Cronin and Lisa Kundrat.
A Celebration of her Life will be held at 2 p.m. on Saturday, January 21, 2023, in the Chapel of Nicholson Funeral Home with Pastor James Lewis officiating. The family will receive friends one hour prior to the service beginning at 1 p.m.
Nicholson Funeral Home has the honor of serving the family.