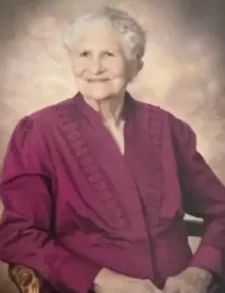 Nettie Thelma Anderson Brogdon, 93, of Statesville, N.C., passed away on Wednesday, July 5, 2023, at the Gordon Hospice House. Born on July 30, 1929, in Hawkins County, Tenn., she was the daughter of the late Thurman Palestine Anderson and Mary Tignor Anderson. She grew up in Rockwood, Tenn., and later moved to North Carolina with her family before settling down in Statesville.
Mrs. Brogdon loved going to church and attended Landmark Church of God, where she passionately volunteered with their food pantry. During her career, she did in-home childcare, worked in the textile mills and in laundry mats. For the last 20 years of her employment, she worked for Brendles as a manager of the Housewares and the Toy Department.
She was also a volunteer at Scotts Elementary School. Nettie loved people and was known for her cooking, especially her Chicken Pot Pie, her Chicken 'n Dumplings, and for her delicious cakes.
In addition to her parents, Thurman Palestine and Mary Tignor Anderson, she was preceded in death by her husband of 42 years, James Robert Brogdon; and her seven siblings.
Left to cherish her memory are her children, W.T. Brogdon and wife Vickie, Rick Brogdon and wife Martha, and Becky Courson and husband Keith; grandchildren, Rob Brogdon and wife Angie, Mandy Kubbs and husband Kirt, Matt Brogdon, Kristi Schalk and husband Darren, Megan Royall and husband J.R., and Paige Boggs and husband Justin; great-grandchildren, Jonah Brogdon, Jake Schalk, Gabriel Brogdon, Abby Schalk, Alli Schalk, Lucas Brogdon, Hadley Boggs, Sophia Royall, and Trae Royall; sister-in-law, Margaret Brogdon; brother-in-law, Tom Coston; her numerous nieces, nephews, great-nieces and great-nephews who she held close to her heart; and her loving caregiver, Michelle Carpenter.
The family will receive friends from 2 to 3 p.m. on Sunday, July 9, 2023, at Landmark Church of God. Funeral Services will follow at 3 p.m. at Landmark Church of God with Bishop Ken Hudson officiating.
A graveside service will be held at 2 p.m. on Monday, July 10, 2023, at Parklawn Memorial Gardens in Winston-Salem , N.C.,with Bishop Keith Russell officiating.
Pallbearers honoring Mrs. Brogdon are Rob Brogdon, Matt Brogdon, Darren Schalk, Kirt Kubbs, J.R. Royall, Justin Boggs, Jonah Brogdon, and Terry Myers.
For those who wish, memorial contributions may be made to Landmark Church of God, 2200 E. Broad St., Statesville, NC 28625, or to Hospice & Palliative Care of Iredell County, 2347 Simonton Road, Statesville, NC 28625, or to the American Kidney Foundation (www.kidneyfund.org/give), 11921 Rockville Pike, Suite 300, Rockville, MD 20852.
Nicholson Funeral Home has the honor of serving the family.