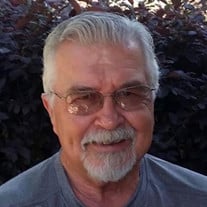 Olin Monroe Christenbury Jr., 75, passed away on June 15, 2023. Olin was born on October 30, 1947, to father, Olin Monroe Chirstenbury Sr., and mother, Winona "Fay" Kerley Christenbury in the bustling city of Charlotte.
After Olin graduated from North Mecklenburg High School in 1966, he studied various trades at Central Piedmont Community College. He enlisted in the U.S. Army and oversaw communications for his base's commander in Belgium. After his military service, he pursued a professional career in telecommunications, and retired after more than 50 years of work. Olin was very handy and could build most anything, and performed that work professionally as a General Contractor and Home Inspector. Olin was passionate about his family, animals and nature, and veteran affairs.
He is survived by his loving wife, Sybil Swinson Christenbury; children, LeAnn Sek (Sonara), Michael Christenbury (Stephen Kidd), Olivia Johnson (Mitchell), Diana Grace Vowles (Samuel), and Michael Belk; sister, Judy Sanders (William); and grandchildren, Kobe, Kayden, Lydia, Oliver, and Collin.
Olin was predeceased by his parents.
Services will be held at Cavin-Cook Funeral Home, located at 494 E Plaza Drive, Mooresville, NC 28115, on Wednesday, June 21. The family will receive friends beginning at 2 p.m. and a service will directly follow at 3 p.m. In lieu of flowers, please consider a donation to Richard's Coffee Shop, located at 165 N. Main Street, Mooresville, NC 28115.
Cavin-Cook Funeral Home & Crematory, Mooresville is proudly serving the Christenbury family. Condolences may be made to the family at www.cavin-cook.com.