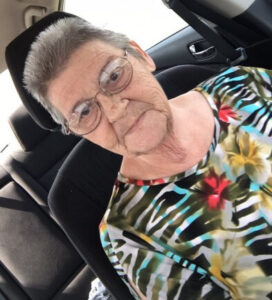 Patricia Anne Williams Hardison, 78, of Statesville, N.C., departed this world on Sunday, October 15, 2023.
Pat, as she was so lovingly known as, was born on January 8, 1945, in Burgaw County, N.C. She was the daughter of the late Clifford Williams and Annie Snipes Williams. In addition to her mother and father, Pat was preceded in death by her loving husband, Fredrick Hardison, and her brother, Kip Williams.
Pat chose a career in the hospitality field. She was a cafeteria manager for Iredell-Statesville School System for East Elementary School, ADR and Statesville Middle School. Pat was a devoted Christian and was a member of Bethlehem United Methodist Church. Some things Pat enjoyed in life were going to church, making candy, drawing, and doing crafts.
Pat leaves behind to cherish her memory a son, James Hardison; two daughters Tammy Bryson and Diana Burton; grandchildren Amber Bryson, Ashley Smith (Sean), and Christopher Hardison; and three great-grandchildren Landen, Aiden, and Amelia.
There are no scheduled services at this time.
In loving memory of Pat, please consider a donation to Bethlehem United Methodist Church.
The staff at Reavis Funeral Home of Statesville is honored to serve the family.