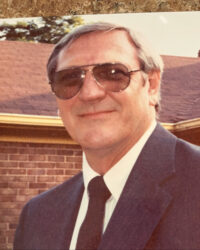 James Franklin Bumgarner, 88, passed away October 17, 2023, surrounded by his family at Gordon Hospice House in Statesville, N.C.
With a wife, three kids, a long and successful work career, overcoming endless health challenges, making friendships that lasted decades and being the best example for his children, Dad's was a life well lived.
Born in Mooresville on September 20, 1935, Jimmy Bumgarner graduated from Mooresville High School in 1953 and then joined the United States Navy. He was a decorated veteran and served his country with distinction, honor and pride.
He is survived by his wife of 62 years, Joan; his three children, Michael and wife Renee, Chris and special friend Renee Martin, and Donna; grandchildren Brittany Brown, Emerson Frantz and Delaney Bumgarner; a sister, Linda Whitman of Newland, N.C., and extended family.
He was preceded in death by his parents, Sherman and Dolly, and brothers, Johnny and Jerry.
Our New Jersey-native mother was truly the ying to our Mooresville-born Dad's yang. Somehow, she managed to domesticate a wild, young, Southern man and helped steer him to becoming the greatest husband, dad and grandfather.
They married on October 22, 1961, and started their family in 1966 when they adopted Michael followed by Chris in 1970 and Donna in 1971. Their love for their children has always been pure and unconditional.
Jim Bumgarner worked for International Paper for 32 years, loved UNC Tar Heel basketball and Carolina Panthers football, even though they are rarely good.
Here's what you should really know about James, Jimmy, Jim:
He was the best dad ever. He worked hard every day to provide for his family. More importantly, his work ethic and commitment to family were the greatest gifts he could leave us because his example is what we strive to live up to every day.
He never complained. He was largely quiet when we were young, probably because he worked long, hard hours and did so battling a horrible disease, polymyositis, which caused him unbearable pain for decades.
He never quit. In 1980, doctors at Baylor University told him there was no cure for the disease and that he should go home and "make arrangements." In Dad's mind, the only arrangement to be made was to go back to work and make ends meet for his family, which he did for another 40 years.
He was the sweetest, kindest man. He just was. Whatever wild and crazy things he did before he had kids, we never saw that Jim Bumgarner. Dad was just sweet, kind and nice. Everyone who met him said so. He was just like that.
As he got older and his body started to fail him, he refused to complain. When asked how he was doing, his response was always, "I'm still hanging around."
You will always be loved, missed and cherished, Dad. We will do our best to live up to the example you set for us. You set the bar high. See you on the other side.
In lieu of flowers, donations can be made to Gordon Hospice House, 2341 Simonton Road, Statesville, NC 28625. The family is forever grateful to the staff at Hospice for their care and devotion to Dad's care especially Crystal Brown and Lynn Kunkle.
Visitation will be held at 3 p.m. Monday, October 23, 2023, at Nicholson Funeral Home in Statesville, NC with service to follow at 4 p.m. in the Nicholson chapel with Rev. Lynn Kunkle officiating.
Nicholson Funeral Home is honored to serve the Bumgarner family.