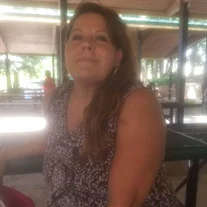 Peggy Annette Lewis Gober, 54, of Statesville, N.C., passed away unexpectedly on Wednesday, March 8, 2023, in Burke County. Peggy was born May 19, 1968, in Iredell County to the late Lee Roy Lewis and Sandy Gail Jones.
In addition to her parents, Peggy was preceded in death by her husband, Steven Gober; and two grandchildren, Arielle Chapman and Walker Chapman.
Those left to cherish her memory include two sons, Steven Lee Chapman and wife Emma of Statesville and Joe Gober of North Dakota; one daughter, Kaleigh Gober and husband Fue Xiong of Connelly Springs; two brothers, Rocky Kiser and wife Jennifer of Statesville, and Mark Lewis of Shady Spring, W.Va.; two sisters, Sherry Sheets and fiancé Larry Jones, and Wendy Morris and husband Kent, all of Stony Point; nine grandchildren, Athena, Aavah, Willow, Wyatt, Liam, Cha-Lee, Dylan, Olivia, and Julie; stepmother Kathy Snead of Oak Island; and one paternal grandmother, Lorene Bustle of Statesville.
A Celebration of Life will be conducted Saturday, March 18, 2023, at 2 p.m. at Chapman Funeral Home, 158 Stony Point School Road, Stony Point NC 28678. Rev Raymond Kiser will officiate. Visitation will be held one hour prior on March 18, 2023, at 1 p.m. at Chapman Funeral Home, and at other times the family will assemble at the home of sister Sherry Sheets.
Chapman Funeral Home is serving the Gober Family.