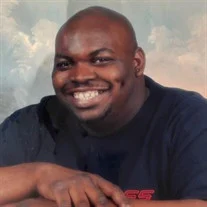 Mr. Pervis Darnell "Boo" Knox was born in Guilford County, N.C., on January 28, 1975. He was the beloved son of Jeannie Patterson Blackmon, who survives. Pervis entered into eternal rest on Tuesday, April 18, 2023, at his home in Portland, Ore.
Mr. Knox attended Iredell County and Cabarrus County schools and later joined Earl C. Clements Job Corps in Morganfield, Ky., to finish his education and start his training in Culinary Arts. He later moved to Portland, Ore., to attend Western Culinary Institute to continue his Culinary Arts training. Pervis worked as a chef for several years at the Moda Center and most recently worked as a cook at Red Robin, Inc.
In addition to his maternal grandparents, Wiley and Lillian Patterson, and paternal grandparents, Lynn and Elnora Wilson. He was also preceded in death by his uncles Danny Wilson, Steven Wilson and Kenneth Wilson Sr., as well as aunts Pran Knox and Teresa Daniels.
In addition to his mother, Jeannie Patterson Blackmon, he leaves to cherish his memory his father, Seifullah El-Amin (Mahasin); and his siblings, Portia D. Knox and Joseph P. Knox Jr. of Statesville, N.C., Loey R. (Thomas Grant) Knox of Commerce, Ga., Tauheed (Kelly) El-Amin of Pittsburgh, Pa., Baseemah (Joseph) Nance of Houston, Texas, Adib (Sherrie) El-Amin of Cincinnati, Ohio, and Siedah (Juan) Rivera of Jacksonville, Fla. Also surviving are his maternal aunts and uncles, Patricia Mauney, Wiley Patterson Jr., and Roberta (Paul) Foust, all of Statesville, N.C., Essie P. McNeill of Harrisburg, N.C., and Robert Patterson of Orlando, Fla.; paternal aunts, Valerie (Cecil) Mayberry, Nina Wilson, Lillian (James) Tillman, Faith Wilson, Tana Imes, Glynita Wilson and Iris Murdock; nieces and nephews, Jarris Knox, Jawuan Phifer, and Joselyn Knox, Lincoln and Ella Rose El-Amin, Amir and Sundiata Nance, Alani, Ahmad and Aaliyah El-Amin, and Malique and Jazlyn Rivera; and special friends, Emily Brown and Earl Underwood; as well as a host of cousins and dear friends.
The family will receive friends from 11:30 a.m. to 12 noon on Wednesday, May 10, 2023, at Nicholson Funeral Home. A Celebration of Life will be held at 12 noon in The Chapel of Nicholson Funeral Home with Bishop John Carr and Co-Pastor Keisha Carr officiating.
To view the Celebration of Life LIVE, please visit https://view.oneroomstreaming.com/index.phpdata=MTY4MzMzNDg1NzI0OTg1OSZvbmVyb29tLWFkbWluJmNvcHlfbGluaw==
Nicholson Funeral Home has the honor of serving the family.