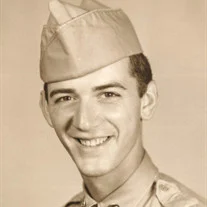 Real Dominique Pelchat, 93, of Mooresville, N.C., passed away on Sunday, September 17, 2023, at his home.
He was born December 1, 1929, in Lewiston, Maine, to the late Joseph A. Pelchat and Genoria Gilbert Pelchat. In addition to his parents, he was preceded in death by his wife, Christiane Sarribouette Pelchat; sister, Lorraine Auger; and brothers, Rene and Roland Pelchat.
Real proudly served his country for 22 years in the U.S. Army with one tour in Korea, and two tours during the Vietnam War.
He enjoyed singing, eating chocolate, and watching movies and television. He loved to laugh and to tell jokes to make others laugh. He enjoyed watching hockey on TV and especially Bobby Orr; however, most of all, he loved being with his family.
Real is survived by his daughter, Claudette Walters and husband Jeff; and his adopted daughter by love, Sharon Ray and husband Scott; nieces, Diane Maheux, Jane Horton, and Nancy Fyke; nephew, Danny Auger; and grandsons, Nathan and Ian Walters and Kristen Sullivan (surrogate granddaughter).
A Celebration of Real's Life will be held in Auburn, Maine, at Gracelawn Memorial Park.
Cavin-Cook Funeral Home and Crematory, Mooresville, is serving the Pelchat family. Condolences may be sent to the family at www.cavin-cook.com.